EZ Extend Circle 7ft. Display – Single-Sided Graphic Only (W/ Black Back Fabric)
This is a replacement graphic for the EZ Extend Circle 7 Display. 

Includes:
1 Single-Sided Custom Graphic w/black backside
Material: Stretch Fabric, Dye-Sublimated
Graphic Dimensions: 84.5″w (7′ dia) x 84.5″h
Shipping Weight: 1 lb
| | |
| --- | --- |
| Template | |
| Specsheet | |
| Instructions | |
FAQ
1. Is it extendable like the standard EZ Extend?
YES! 12" and 24" extension poles will be available soon.
2. Is the frame available in silver?
No. The frame is only available in black.
3. Are there any compatible lights?
EZ Tube lights are compatible with all size frames.
4. Are there any other circle diameters available besides 40", 60" and 84"?
No
5. Can this display be used outside?
The EZ Extend Circle is recommended for indoor use only.
6. Does it include a travel bag or have a travel bag option?
No travel bag is included and no travel bag option is available.
7. Does this require any tools for set-up?
Yes an allen key is required, but is included with the display.
8. What are the heights of each size?
Standard display heights for each size are as follows:
3.5ft x 78in
5ft x 72.375in
7ft x 87in
9. What is the distance from the ground to the bottom of each circle?
3.5ft – 40"
5ft – 18"
7ft – 9.25"
10. Can the iron base be substituted with feet?
No foot option is available yet
11. What is the depth of the display?
Display depth is 10" for all sizes
12. Any available accessories?
No additional accessories are available at this time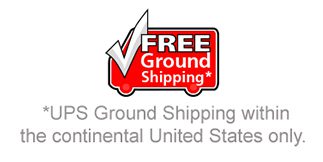 Don't see what you need here for your product? Need different paper stock options or sizes not shown? Don't worry. That means you need a custom job! Just fill out this form and we'll get you sorted out right away.