Custom Yard Signs – Affordable Political & Real Estate Signs
Yard signs also known as Lawn Signs are a highly visible way to grab the attention of anybody passing by. They can be used for a variety of purposes, such as spreading awareness for a campaign, highlighting an event, directing the flow of traffic or celebrating a momentous life event. Yard signs are relatively inexpensive to produce, and they can have a big impact in terms of getting people to take notice.
Lawn signs are a versatile and affordable marketing tool that can be used for a variety of purposes. They are most commonly used on lawns and alongside roads for political advertising, business services promotion, real estate signage, and more.
Whether you're looking to raise awareness for a cause or simply want to add some decoration to your yard, yard signs are a great option.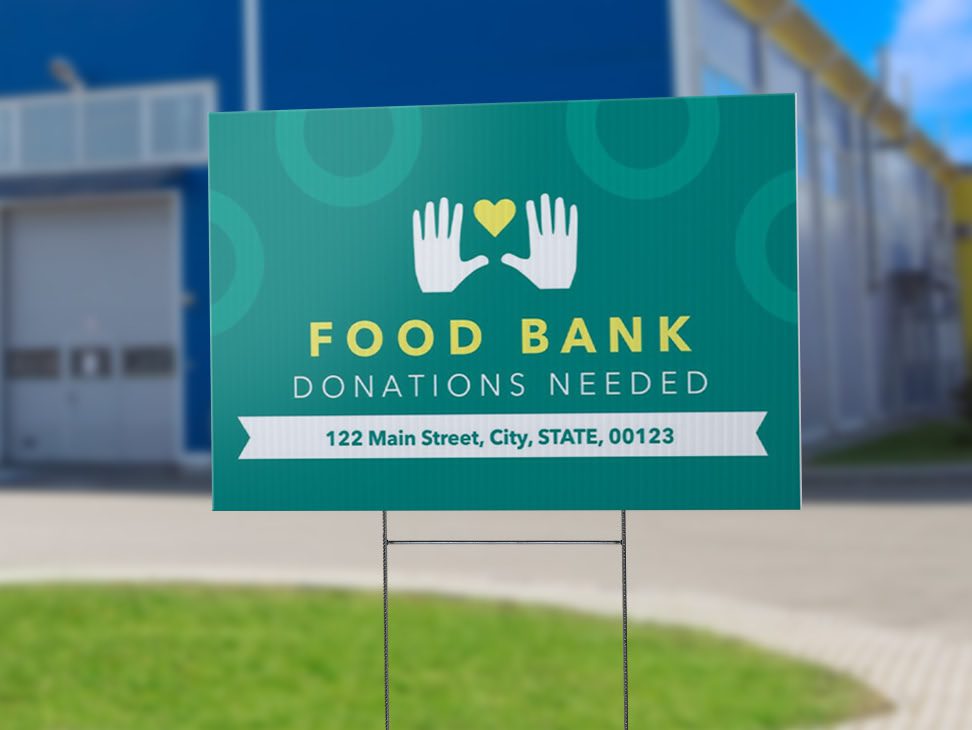 Yard signs are also an effective way to announce yard sales, direct attendees to weddings and other events, and provide information about products and services. Yard signs are typically made from corrugated plastic or card stock, and most feature clear text and eye-catching graphics.
Yard signs are an affordable marketing solution that can be reused again and again.
Yard signs are a common sight, especially in areas where elections are taking place or new houses are being built. However, many people don't stop to think about why these signs are so important. These signs serve a vital purpose by helping to spread a message to a wide audience. For businesses, they can be used to advertise a new product or service.
For politicians, they can be used to raise awareness of their campaign. And for groups, they can be used to announce an event or promote a cause. In order for Lawn signs to be effective, however, they need to be well-designed and placed in visible locations. Otherwise, people will simply walk right past them without giving them a second glance. Yard signs may seem like a small detail, but in reality, they play a crucial role in getting a message out to the public.
Yard signs are a common sight in many residential neighborhoods. Often, they are used to show support for a political candidate or advertise a business. However, they can also be used to promote work being done on the house or yard. For example, a company working on the windows or siding of a house may put a sign in the yard advertising their services. Yard signs typically include the business name and phone number, as well as a phrase such as "This work done by..."
The goal is to generate more business for the company by showing off their work. Once the public sees the good quality of work being done, they are more likely to call the company for their own home improvement needs. As a result, lawn signs can be an effective way to promote businesses and generate new leads.
At CreationStationPrinting, we offer a variety of options for Yard signs, including different sizes, shapes, and materials. Yard signs can be displayed in a variety of ways, including on stands, in lawns, or on fences. Each option provides an easy way to effectively promote your business or event.
Yard signs can be single or double-sided, cut to shape, and have wire stakes added for display purposes. The most common sizes include: 24" x 6", 24" x 18", 18" x 12", 36" x 18", 2' x 2', and 4' x 4'.
We use state of the art equipment and facilities. Our goal is to provide our customers with superior products at the best price possible! So if you're looking for a reliable and affordable way to promote your business, look no further than CreationStationPrinting!
Order your custom yard signs today!
Here are some other products like this one!
Thanks for Reading!
Takeaway
At Creation Station Printing, we believe in providing our clients with everything they need under one roof. This means that we offer a wide range of services and products that cater to your specific needs and requirements.
We have a team of experts who are available to help you every step of the way. So if you're looking for quality printing services that will exceed your expectations this is the place to be.
Imagine, being able to go to your print provider, get every single item you might need from one place, and know that you are going to get the best price at all times.
Now that's loyalty. 
Check out Creation Station Printing today and ask them about their custom branded storefronts. This will start the conversation that could change the way your company does print forever.
Want to Learn More?
Check out more info about how we can build you your own custom branded business storefront and let us become your in house print shop today!