Floor Graphics: Custom Printed Vinyl Floor Decals
Floor graphics are some of the most cost-effective advertising solutions that you can use to increase sales and revenue. They provide several significant benefits, all of which lead to increased sales and revenue. Floor graphics are a great way to grab attention and get your message across.
In this blog post, we will discuss the benefits of floor graphics and how you can use them to drive more business for your company!
Floor graphics are a great way to grab attention and get your message across. Floor graphics are an affordable and easy way to advertise. They are also a great way to reach a wide audience with your message. Floor graphics can be used in a variety of settings, including retail stores, office buildings, trade shows, and more!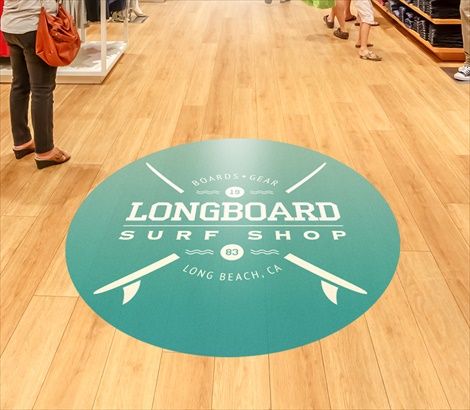 Floor graphics are a great way to make use of underutilized space and create a visual impact for your business!
At CreationStationPrinting, we specialize in custom floor graphics that can be designed to meet your specific needs. Whether you're looking for airport floor graphics or grocery store floor graphics, we can help. Our floor graphics are printed on durable materials that can withstand high traffic areas, making them ideal for convention centers, auto dealerships, and shopping malls. Plus, our floor graphics are available in custom sizes and shapes to fit your unique space.
Give your retail store a professional look by installing custom floor decals. Our floor decals are made from 3.5-mil-thick vinyl, making them durable and skid-proof. Perfect for in-store promotions, directional needs, manufacturing facilities, and more. Our floor decals are printed in full color and can be custom die-cut to any shape. Floor graphics are a great way to grab attention and promote your brand.
Order your custom floor decals & graphics today!
Contact us today to learn more about our floor graphic solutions as well as you can see our other Indoor signs like this one!
Thanks for Reading!
Takeaway
At Creation Station Printing, we believe in providing our clients with everything they need under one roof. This means that we offer a wide range of services and products that cater to your specific needs and requirements.
We have a team of experts who are available to help you every step of the way. So if you're looking for quality printing services that will exceed your expectations this is the place to be.
Imagine, being able to go to your print provider, get every single item you might need from one place, and know that you are going to get the best price at all times.
Now that's loyalty. 
Check out Creation Station Printing today and ask them about their custom branded storefronts. This will start the conversation that could change the way your company does print forever.
Want to Learn More?
Check out more info about how we can build you your own custom branded business storefront and let us become your in house print shop today!