Adhesive Vinyl Graphics are best advertising tool for Business
Adhesive vinyl graphics are a highly effective, yet affordable way to advertise. Adhesive vinyl can be applied to all sorts of vehicles, from cars and trucks to vans and boats. And, because the graphics are printed with digital printing and ultraviolet inks, they'll last for years—making them perfect for long-term advertising campaigns. Not only are these graphics cost-effective, but they're also highly visible.
They're impossible to miss, which means your message will be seen by countless people. And, because they can be applied to both interior and exterior surfaces, you have endless possibilities for where to place them.
If you're looking for an intelligent way to advertise, look no further than adhesive vinyl graphics.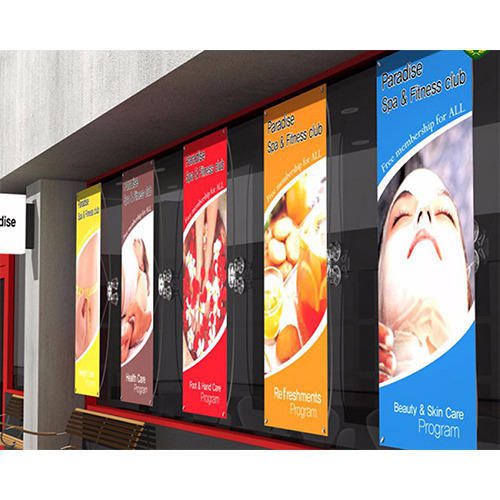 Adhesive vinyl graphics are a popular choice for vehicle advertising, thanks to their durability and eye-catching designs. Made from a durable PVC film, adhesive vinyl stickers are printed with your choice of design, then laminated to protect against weathering and UV damage.
These vinyl stickers can be applied to almost any smooth surface, making it a versatile choice for car wraps, fleet decals, and window graphics. These vinyl stickers can be produced in any color or finish, including metallic, glossy finishes, and even raised textures.
Whether you're looking for a full-color car wrap or simple window decals, adhesive vinyl graphics are an excellent way to get your message seen.
Adhesive Vinyl Graphics are an important component of your promotional efforts. Vinyl is much more rugged and weather resistant than paper, making them ideal for situations where they will be used outdoors. Vinyl stickers cannot be easily torn - they will typically stretch if an attempt is made to pull them apart. The stickers we produce are easy to use - a thin, removable film effortlessly peels away from each custom vinyl sticker. These Vinyl Graphics can be applied to just about any smooth, clean surface, including glass, plastic, and metal. They are also dishwasher safe, making them perfect for use on water bottles and other gear.
Adhesive vinyl graphics are popular among businesses as a marketing tool because they are an inexpensive way to advertise.
They can be printed in any size or shape and applied to any smooth surface, making them highly versatile. Window vinyl graphics are especially popular, as they can be seen by passersby but do not obstruct the view. Perforated vinyl graphics are often used on glass, as they do not heat up in sunlight and are safe to use. This makes them ideal for car windows and store fronts. Adhesive vinyl graphics are a great way to get your message out there, and can be customized to fit your needs.
At CreationStationPrinting, we understand that in today's competitive marketplace, it is essential to have a professional and eye-catching product. That's why we offer our customers the highest quality Adhesive vinyl graphics printing services. We use only the best materials and latest printing technology to produce stunning stickers that will make your products stand out from the competition.
Whether you need Adhesive vinyl graphics for indoor or outdoor use, we can provide a solution that meets your needs. And because we value our customers, we offer a 100% satisfaction guarantee on all of our sticker printing services. So if you're looking for a reliable and affordable way to promote your business, look no further than CreationStationPrinting!
Thanks for Reading!
Takeaway
At Creation Station Printing, we believe in providing our clients with everything they need under one roof. This means that we offer a wide range of services and products that cater to your specific needs and requirements.
We have a team of experts who are available to help you every step of the way. So if you're looking for quality printing services that will exceed your expectations this is the place to be.
Imagine, being able to go to your print provider, get every single item you might need from one place, and know that you are going to get the best price at all times.
Now that's loyalty. 
Check out Creation Station Printing today and ask them about their custom branded storefronts. This will start the conversation that could change the way your company does print forever.
Want to Learn More?
Check out more info about how we can build you your own custom branded business storefront and let us become your in house print shop today!