Adhesive Vinyl Graphics – Effective Way of Business Advertising
If you're looking for an attractive and affordable way to dress up your front materials, vinyl graphics are the perfect solution! Vinyl is a flexible material that can be easily contoured to fit curved and uneven surfaces. This makes it the perfect choice for window films and other front materials. In this blog post, we'll discuss the benefits of using vinyl graphics on your business's front materials. We'll also provide some tips on how to choose the right vinyl graphic for your needs. So read on to learn more about this versatile and attractive solution for your business's front materials!
Vinyl graphics are a popular choice for businesses because they are affordable and attractive. There are many benefits to using vinyl graphics, including the following:
Vinyl graphics are flexible, making them ideal for contoured surfaces.
Vinyl graphics can be printed with any design, making them highly customizable.
Vinyl graphics are durable and long lasting.
Great for indoor and outdoor use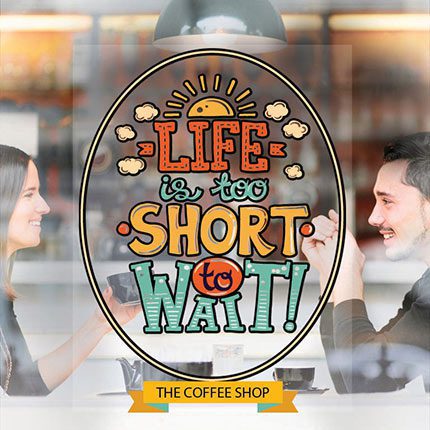 When choosing vinyl graphics for your business's front materials, there are a few things to keep in mind:
Make sure to choose a vinyl graphic that is the right size for your needs.
Consider the overall look you want to achieve with your vinyl graphic.
Choose a vinyl graphic that is durable and long lasting.
Adhesive vinyl graphics are a great way to get your advertising word out when you need a permanent solution. You can use them on windows, plastic, metal, walls, and other smooth, clean surfaces. Adhesive vinyl graphics are available in a matte or gloss finish and can be laminated for extra durability. Full color printing is available, and custom sizes are also available.
Adhesive vinyl graphics are an inexpensive way to promote your business, product, or service and can be used indoors or outdoors. When applied properly, they will last for years without fading or peeling. This is the preferred method for high quality window graphics when your window is not tinted and has no obstructions on the inside that might prevent installation.
Adhesive Vinyl graphics are widely used in the fleet graphics industry to deliver higher impressions at a low cost. The product is also utilized to cater to the rising demand for fleet graphics. The frequent appearance of the promotion or the brand name in the market related to the company achieves an effective frequency of messages that is required to be delivered to the targeted audience.
Rising demand for fleet graphics from the advertising industry for increasing the reach for prominent customers is anticipated to boost the market growth. Adhesive vinyl graphics are a cost-effective way of delivering high-quality messages that promote your brand or product. They are also durable and long-lasting, making them an ideal choice for businesses that want to make a lasting impression.
Adhesive Vinyl graphics from Creation Station Printing are the best in the business. Don't let anyone tell you otherwise! We don't sacrifice quality on the size of the order or specifications of the job. With tons of design options and award-winning service, Creation Station Printing is ready to outfit your business with the best of the best!
Adhesive Vinyl is perfect for any indoor or outdoor application. It has a water-resistant, UV resistant, and abrasion-resistant finish that will keep your graphics looking great for years to come. Choose from a variety of substrates, including glossy, matte, clear, or translucent vinyl. We can print your Adhesive Vinyl graphics in any size or shape you need.
So contact us today and let us help you take your business to the next level!
Thanks for Reading!
Takeaway
At Creation Station Printing, we believe in providing our clients with everything they need under one roof. This means that we offer a wide range of services and products that cater to your specific needs and requirements.
We have a team of experts who are available to help you every step of the way. So if you're looking for quality printing services that will exceed your expectations this is the place to be.
Imagine, being able to go to your print provider, get every single item you might need from one place, and know that you are going to get the best price at all times.
Now that's loyalty. 
Check out Creation Station Printing today and ask them about their custom branded storefronts. This will start the conversation that could change the way your company does print forever.
Want to Learn More?
Check out more info about how we can build you your own custom branded business storefront and let us become your in house print shop today!