Coroplast Yard Signs – Creation Station Printing!
Today's outdoor yard signs are typically made of Coroplast. It is a twin wall extruded plastic material that has corrugated supports called flutes between the walls. You can cut Coroplast with the flutes running vertically or horizontally. When using Coroplast yard signs, choosing to have the flutes run vertically allows us of an H-Stake. This is a wire stand with prongs on both ends.
One set of prongs is inserted into the vertical flutes and the other set of prongs is stuck into the grass or soil. This approach allows a stable platform for the sign, allows for easy re-direction of the sign and opens up both sides of the sign for printing.
Coroplast is also lightweight which helps when transportation and storage are considerations. Most importantly, it's an inexpensive way to make a professional looking yard sign that will withstand most weather conditions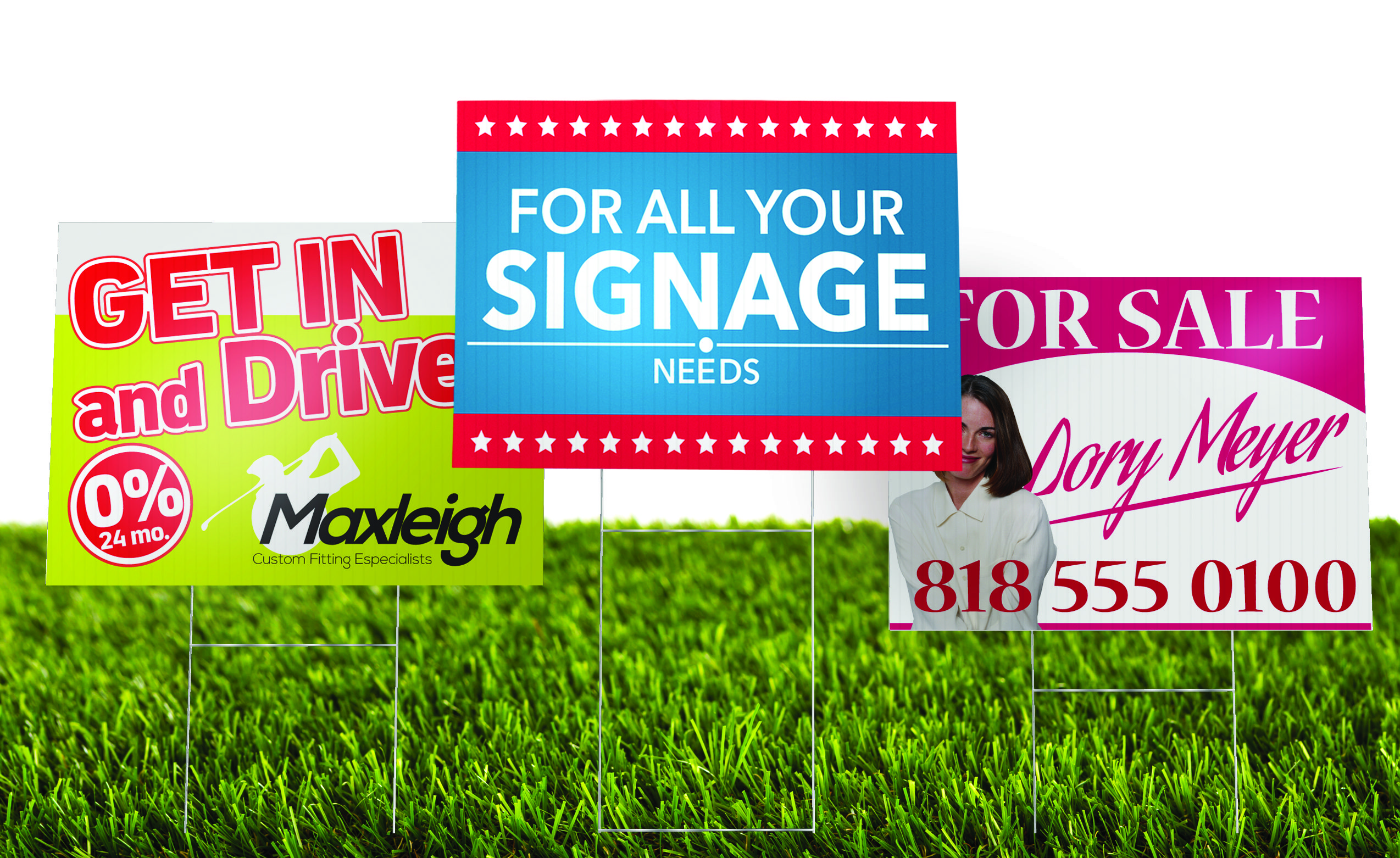 Yard Signs are a popular and affordable form of advertising. These are a portable tool that can be quickly placed in outdoor areas to advertise businesses or special events!
The most popular size is 18" x 24".
Yard signs can be an effective advertising solution for realty companies, lawn care services, contractors, landscapers, and other service providers. They are a colorful way to catch the attention of potential customers and promote your company or event.
Yard signs can be placed in a variety of locations to maximize their visibility. When placing your yard sign, be sure to choose an area with high foot traffic and good visibility from the road. With a little creativity, yard signs can be a cost-effective way to reach new customers and promote your business or event.
Coroplast signs are light and very economical to use. Their light weight is due to the twin wall construction, but they are still very durable because of the corrugated fluting between the walls. The cost of Coroplast is minimal and several ink formulations have been developed that allow full color printing on both sides that endures the outdoor elements.
The signs are easily cleaned and if maintained properly look good and continue to be useful for the long periods of time. In addition, Coroplast signs can be easily stored and transported, making them an ideal solution for businesses that need to frequently change their signage.
Overall, Coroplast signs offer an unbeatable combination of affordability, durability, and convenience, making them an excellent choice for any business!
Coroplast yard signs are one of the most popular products we offer at Creation Station Printing. And it's no wonder why - they're affordable, durable, and versatile. Whether you're looking to promote a business, campaign, or event, Coroplast yard signs are a great way to get your message out there.
They're made from a lightweight yet sturdy material, so they're easy to transport and set up. And they're weather-resistant, so you don't have to worry about them fading or tearing in the wind or rain. Best of all, our Coroplast yard signs are priced low so you can get the most bangs for your buck.
So if you're looking for an affordable, high-quality Yard Signs, look no further than Coroplast yard signs from Creationstationprinting!
Contact us today to know more about our other Outdoor Signs like this one!
Thanks for Reading!
Takeaway
At Creation Station Printing, we believe in providing our clients with everything they need under one roof. This means that we offer a wide range of services and products that cater to your specific needs and requirements.
We have a team of experts who are available to help you every step of the way. So if you're looking for quality printing services that will exceed your expectations this is the place to be.
Imagine, being able to go to your print provider, get every single item you might need from one place, and know that you are going to get the best price at all times.
Now that's loyalty. 
Check out Creation Station Printing today and ask them about their custom branded storefronts. This will start the conversation that could change the way your company does print forever.
Want to Learn More?
Check out more info about how we can build you your own custom branded business storefront and let us become your in house print shop today!