Advertising Flags: How to Customize, Print, and Use Them for Business
In this age of digital advertising and a 24-hour news cycle, object permanence is a rare animal. Everything around us is fleet-footed and easy to forget. It seems that the only things we can count on are death, taxes, and billboards.
Even billboards change occasionally and seem expensive to create and design. Business signage is permanent but is costly as well. Fortunately, there is a great way to show your stuff in a big way for a small amount of money, and that is to employ advertising flags to convey your message.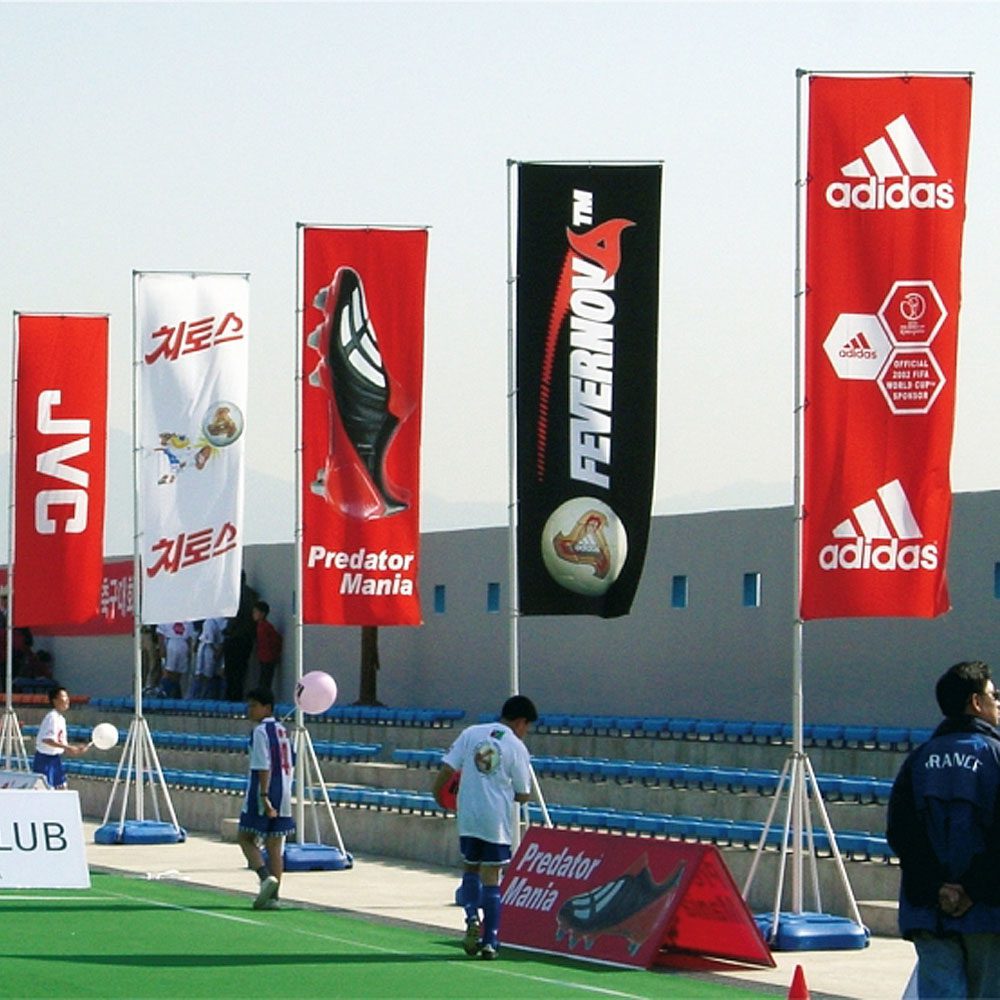 Find a Professional
Companies that print these flags know what they're doing. It's important to get recommendations and pricing, so you have a complete idea of what you want and what you're buying.
Out of Home Marketing
These flags are an eye-catching and modern vehicle for businesses to use to display sales, commemorations, logos, and even simple restaurant table numbers. Banners, billboards, bus signs, and car wraps are all classified as Out Of Home (OOH) advertising, which targets potential customers...you guessed it. Outside their homes.
OOH advertising is impactful because most people spend most of their days outside their houses. Repeated exposure to a company or idea impacts buying decisions, whether the customers realize it or not.
The dramatic shapes and designs of printed advertising flags appeal to potential customers and can make your brand shine. Read on to find out more about these versatile markers and the creative ways people use them.
The Three Shapes of Advertising Flags
Advertising flags come in three shapes which often dictate how they will be used. It should be noted that there are variations within these categories. The shapes are as follows:
Teardrop Flags
This eye-catching shape is excellent for printing a logo or single graphic in the broad area at the top to convey a single thought or message. When used outdoors, they sway in the breeze and create an appealing visual aesthetic.
Feather
This shape is also unusual and eye-catching and can hold more information than a teardrop-shaped banner. Advertisers design for this shape by using vertical messaging and judicious use of the curved area at the top.
Feather flags have four different styles for the bottom edge: concave, convex, straight, and angled.
Rectangle
The most straightforward design, this flag has the most area for text and logos. What you lose in visual aesthetic, you gain in messaging space.
How Do Advertising Flags Stay Put?
The vendors who print and sell these flags offer different types of mounting hardware, depending on their use. Mounting kits and poles come in a wide array of use-specific designs. These include:
• Fiberglass poles - flexible enough to fill the curve and wave in the wind
• Aluminum poles - extremely lightweight and have the curve built into the design
• Ground spikes - a popular favorite for outdoor use
• Cross-base and flat-base stands - generally used with a weight donut to keep them in place.
• Wheel-base stands - specially shaped to fit under a car wheel
Major Benefits of Advertising Flags
Flags are effective message carriers. Marketers recognize numerous benefits to using them, including:
Ease of Transport
Even the largest of these flags (and that's large at 17 feet tall) are light and portable. That size weights only about four pounds, and many come with a travel case to keep all the assembly parts organized.
Ease of Assembly and Disassembly
Once you've easily transported your flags to your event, you can have them set up in minutes. Inside or outdoors, it takes little effort to put together the stands or insert the rods.
They Look Good
It's hard to make these items look bad. The colors are generally bright, and they effortlessly catch the breeze and potential customer's eye.
They are Versatile
Flags can be placed anywhere. They can be lined up on a sidewalk, staked in front of a beach restaurant, or cascaded down a street for an event. They leave a designer open to creative uses, like a cascading message that people will read by following each one.
They are Affordable
Flags are inexpensive. From under $50 to $250, depending on size and design, these are a small investment that packs a big bang for the buck. They are also washable so that the owner can reuse them for a long time.
They Give Big Rewards for a Small Footprint
A great deal of marketing takes place on a horizontal area, like a billboard or a bus shelter. Traditional signage is generally a horizontal structure, and bus wraps are designed to the length of the bus.
The beauty of an advertising flag is that it uses vertical space. The flags eliminate the need for any wide space and occupy a minimal footprint. In return, they can be seen from far away, which makes them great for crowded areas like convention centers or outdoor markets.
How to Design for Advertising Flags
Once you have decided to use advertising flags for an event, it's essential to know how to get the most impact from them. Some specific design tips should be followed to make the most of this investment.
Rule 1: Less is More
The flags themselves are eye-catching. If they're full of phone numbers, web addresses, and logos, none of those will stand out. What will stand out is a badly-designed flag that nobody wants to see.
Some companies recommend a single letter per vertical foot. For instance, a 4-foot flag could do well with the word SALE. Follow the 1-to-10 rule: for each inch in letter size, the view can read it from ten feet away.
Rule 2: Simple Is Better
Along the lines of rule 1, a simpler font is easier to read than a fancy script or handwriting font. As tempting it is to show off your style, large sans-serif fonts are a better choice.
Rule 3: Choose Colors Wisely
Have you ever been to a website that has yellow text on a white background? We have too, and it's impossible to read. The text should be a contrasting color to the background, or else people will not be able to read it.
Contact us for a consultation so that you are clear about your options and understand the processes. Advertising flags or any other printed pieces need to be created with care so that you are ultimately happy with your product.
Takeaway
At Creation Station Printing, we believe in providing our clients with everything they need under one roof. This means that we offer a wide range of services and products that cater to your specific needs and requirements.
We have a team of experts who are available to help you every step of the way. So if you're looking for quality printing services that will exceed your expectations this is the place to be.
Imagine, being able to go to your print provider, get every single item you might need from one place, and know that you are going to get the best price at all times.
Now that's loyalty. 
Check out Creation Station Printing today and ask them about their custom branded storefronts. This will start the conversation that could change the way your company does print forever.
Want to Learn More?
Check out more info about how we can build you your own custom branded business storefront and let us become your in house print shop today!