Custom Bookmark Designs – Perfect Gift For Book Lovers
Bookmarks are as a must-have accessory these days as they perfectly go with the book, unlike any other item. Although many people use their boarding pass, pen or photo as a bookmark, they still don't possess the elegance of a customized bookmark. Every book lover has a paper bookmark that also inspires them to read more books. Bookmarks are very significant because when one is reading a book, one might come across an inspiring word or phrase and if there is no bookmark, then that particular sentence might be lost and forgotten.
Bookmarks can be purchased from any bookstore but the best ones are those which are personalized according to the customer's taste. Bookmarks also make for a great gift for someone who loves to read. They are very inexpensive but their value is priceless to a reader. Bookmarks help us keep our place in the book so that we can easily find it again and continue reading from where we left off. They are like little fidgets that keep our fingers busy while we read and help turn the pages without creasing them. Bookmarks are essential for every reader, whether young or old!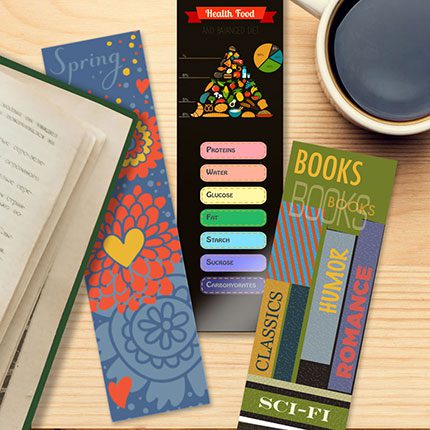 Bookmarks are a great way to keep track of your reading progress and show off your personality. You can personalize bookmarks with your favorite pictures, quotes, or colors!
Bookmarks make excellent gifts for friends and family. They are also a great way to show off your personality and style. If you are looking for a unique and stylish bookmark, look no further than personalized bookmarks!
Bookmarks are not just for personal use. You can creatively use bookmarks for:
You can creatively use bookmarks for promoting an event or an upcoming sale, publicizing a latest book, encouraging a student to read more, or adding a special touch to a gift.
Bookmarks are an inexpensive and easy way to add a personal touch!
Bookmarks can be printed with names, logos, photos, or any other design that you choose!
Bookmarks are a great way to promote your business or product!
Bookmarks are also an excellent way to promote literacy and reading!
Bookmarks can be given away at book fairs, schools, libraries, or any other event that promotes reading!
Bookmarks make great gifts for book lovers and make great stocking stuffers for Christmas!
Bookmarks are a fun and easy way to show someone you care!
Benefits of Printing Custom Paper Bookmarks:
Bookmarks are a reliable, remarkable, powerful, and productive marketing tool for publication businesses, bookstores, and stationery shops.
Bookmarks are handy items that come in a variety of sizes, shapes, and finishes.
Custom paper bookmarks are an effective way to reach your target audience with on-going visible connectivity.
Bookmarks are an excellent way to promote your brand and increase your reach. Bookmarks are a great way to connect with your customers and keep them coming back for more.
CreationStationPrinting offers a wide variety of custom bookmark designs that are perfect for any occasion. With our personalized designs, you can customize your bookmark with your favorite colors, photos, and text. You can also choose from a variety of different paper stock options to make sure your bookmark is durable and looks great. Bookmarks make great gifts for friends and loved ones, and they're also a great way to promote your business or website. Order your custom bookmark today!
Contact us today to learn more about our other Marketing Materials like this one!
Thanks for Reading!
Takeaway
At Creation Station Printing, we believe in providing our clients with everything they need under one roof. This means that we offer a wide range of services and products that cater to your specific needs and requirements.
We have a team of experts who are available to help you every step of the way. So if you're looking for quality printing services that will exceed your expectations this is the place to be.
Imagine, being able to go to your print provider, get every single item you might need from one place, and know that you are going to get the best price at all times.
Now that's loyalty. 
Check out Creation Station Printing today and ask them about their custom branded storefronts. This will start the conversation that could change the way your company does print forever.
Want to Learn More?
Check out more info about how we can build you your own custom branded business storefront and let us become your in house print shop today!