Deluxe Edge Business Cards – Make a Good First Impression
Deluxe Edge Business Cards are a great way to make a good first impression. They are printed on high quality, thick stock and have a professional look and feel. Deluxe Edge Business Cards are also very versatile. They can be used for networking, as well as for promo codes, loyalty cards, and gift cards. Deluxe Edge Business Cards are a great way to make a good first impression and stand out from the competition.
Deluxe Edge Business Cards are the right choice if you are looking for a sturdy, durable card with extra heft.
They will definitely stand out and make a great first impression with that new or potential client. Our deluxe business cards consist of two layers of Premium Uncoated sheets that are seamlessly blended together. The result is an ultra-thick, luxe card (14 pt stocks) that feels amazing to the touch – and looks even better. Plus, Deluxe Edge Business Cards come in various sizes and finishing options to make sure your cards always look on point.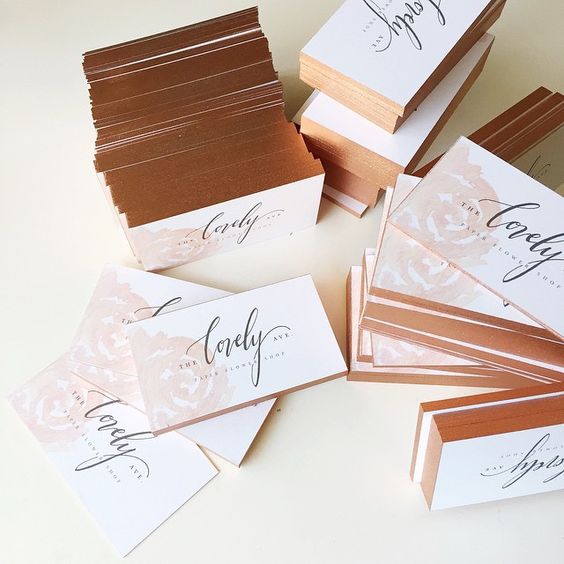 Deluxe Edge Business Cards are extra thick and feature a colored edge, giving them a truly unique look. Whether you're handing them out at a networking event or sending them out with your latest promotional materials, Deluxe Edge Business Cards are sure to get noticed. And because they're so thick, they'll also withstand frequent handling and remain looking sharp for years to come.
This unique feature gives your Deluxe Edge Business Cards a genuine "wow factor"
Stand out with a bright colored edge, or more go subtle using our pastel shades!
Deluxe business cards are printed on 610gsm Mow hawk superfine board!
The cards are printed in full color, either single or double-sided!
Deluxe Edge Business Cards are the final stage of establishing a relationship that may well be essential to success. If handed to the right supplier or service provider, they could help establish a relationship from which you both benefit. If handed to a potential client, it could be the founding of an account that is the making of the business. Deluxe Edge Business Cards can also show potential employers that you are competent and have great attention to detail. By ensuring your Deluxe Edge Business Cards stand out, you are increasing the chances that they will be kept and remembered, giving you an edge over your competition.
Deluxe Edge Business Cards are a great way to make a lasting impression on potential clients and customers.
Ordering from CreationStationPrinting is easy and fast, and you'll receive a high-quality printing service backed with customer-centered support. Get your Deluxe Edge Business Cards today and be one step closer to achieving your business goals! If you have any questions, feel free to contact us on 512-430-1223 or visit our website at https://creationstationprinting.com/
Contact us today to learn more about our other Business Cards like this one!
Thanks for Reading!
Takeaway
At Creation Station Printing, we believe in providing our clients with everything they need under one roof. This means that we offer a wide range of services and products that cater to your specific needs and requirements.
We have a team of experts who are available to help you every step of the way. So if you're looking for quality printing services that will exceed your expectations this is the place to be.
Imagine, being able to go to your print provider, get every single item you might need from one place, and know that you are going to get the best price at all times.
Now that's loyalty. 
Check out Creation Station Printing today and ask them about their custom branded storefronts. This will start the conversation that could change the way your company does print forever.
Want to Learn More?
Check out more info about how we can build you your own custom branded business storefront and let us become your in house print shop today!