ECONOMY FOLDING A-Sign - Affordable Way For Business Promotion
Looking for an easy to use, cost effective way to get your business or event noticed? Look no further than our Economy Folding A-Sign! Printed full color on durable corrugated plastic, this sign is perfect for any indoor or outdoor advertising need. Its vibrant colors and easy assembly will make getting your message out a breeze!
As any business owner knows, advertising is essential for attracting customers and generating interest in your products or services. However, traditional forms of advertising can be expensive and time-consuming.
Economy Folding A-Sign offers an easy, cost-effective solution for businesses of all sizes. Made from durable corrugated plastic, this sign is printed in full color and is perfect for indoor or outdoor use. It assembles in seconds and ships flat, making it the ideal choice for any business or event.
So make sure your message is seen loud and clear with our Economy Folding A-Sign!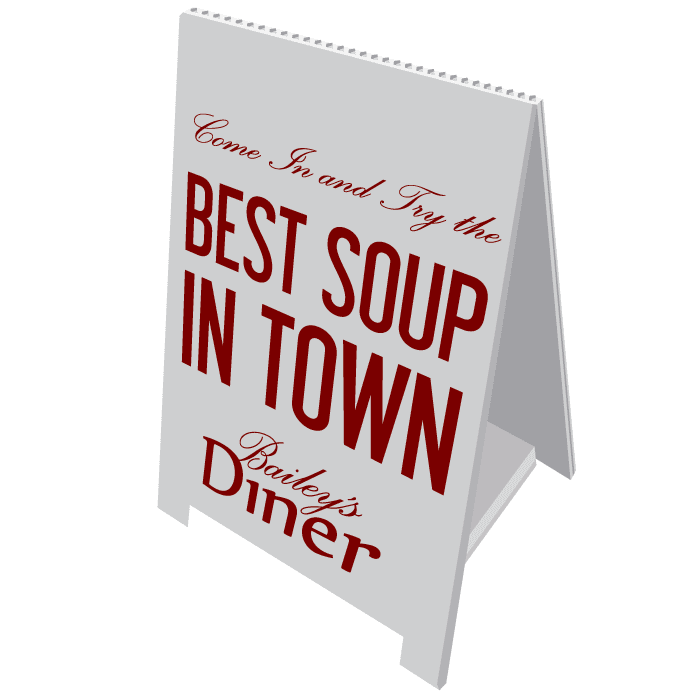 Why Choose Economy Folding A-Sign:
Economy Folding A-Sign!
Printed full color on durable corrugated plastic!
Easy to use and assemble!
Perfect for indoor or outdoor advertising needs!
Vibrant colors will get your message noticed!
3 Versions of Economy Folding A-Sign:
25" x 11" Table Top (4mm Corrugated Plastic)
23 x 35" Light Duty (4mm Corrugated Plastic)
23 x 35" Heavy Duty (10mm Corrugated Plastic)
Economy Folding A-Signs are popular because they are very affordable. They are made of fluted plastic that is lightweight and easy to carry. The lettering is usually applied with stickers, which can be custom made for your business. These signs are best used indoors, as they are not very durable and can be easily damaged by weather. For a more permanent solution, steel A-frame signs are a better option.
These signs are much stronger and more weather resistant, making them ideal for use outdoors. Steel signs can also be custom made with your business logo or name, making them a great way to promote your brand. Whether you need a temporary or permanent solution, A-frame signs are a great option for your business needs!
A-frame signs, also known as Sandwich Boards, have long been a popular form of advertising, and for good reason. They are inexpensive, easy to set up and take down, and can be reused many times without looking worn. A-frame signs are especially well-suited for businesses that experience high foot traffic, such as retail stores, restaurants, and event venues.
By placing an A-frame sign at the entrance to your business, you can grab the attention of passersby and promote special offers or upcoming events. For maximum impact, try using two A-frame signs to create a sandwich board effect. Be sure to choose a sign that is weather resistant and easy to fold for storage, such as the Economy Folding A-Sign. With a little creativity, A-frame signs can be an effective and economical way to promote your business!
For more information about Economy Folding A-Sign, and Outdoor Signs, please check out our website CreationStationPrinting
Thanks for Reading!
Takeaway
At Creation Station Printing, we believe in providing our clients with everything they need under one roof. This means that we offer a wide range of services and products that cater to your specific needs and requirements.
We have a team of experts who are available to help you every step of the way. So if you're looking for quality printing services that will exceed your expectations this is the place to be.
Imagine, being able to go to your print provider, get every single item you might need from one place, and know that you are going to get the best price at all times.
Now that's loyalty. 
Check out Creation Station Printing today and ask them about their custom branded storefronts. This will start the conversation that could change the way your company does print forever.
Want to Learn More?
Check out more info about how we can build you your own custom branded business storefront and let us become your in house print shop today!