Full Color Carbonless Forms – Perfect Way to Showcase Your Business
Full color carbonless forms, also known as NCR (No Carbon Required) forms, are a quick and easy way to create professional-looking business forms. They are available in a variety of sizes and styles to suit any need, and can be printed in full color for a high-impact look. Carbonless forms are ideal for invoices, sales receipts, work orders, home care forms, and almost any other type of business form. The old carbon forms were messy and difficult to use, but the new NCR forms are clean and easy to use.
With a variety of sizes and styles available, there is sure to be a Full color carbonless form that is perfect for your needs.
Full color carbonless forms are the ideal solution for businesses that need to show their logo or images in their original colors. This process is achieved by printing the top white page of a 2, 3 or 4 part NCR form on a digital press in full color while the remaining parts, yellow, pink & gold print in gray-scale. Full color carbonless forms provide businesses with a high-quality, professional look that sets them apart from their competitors.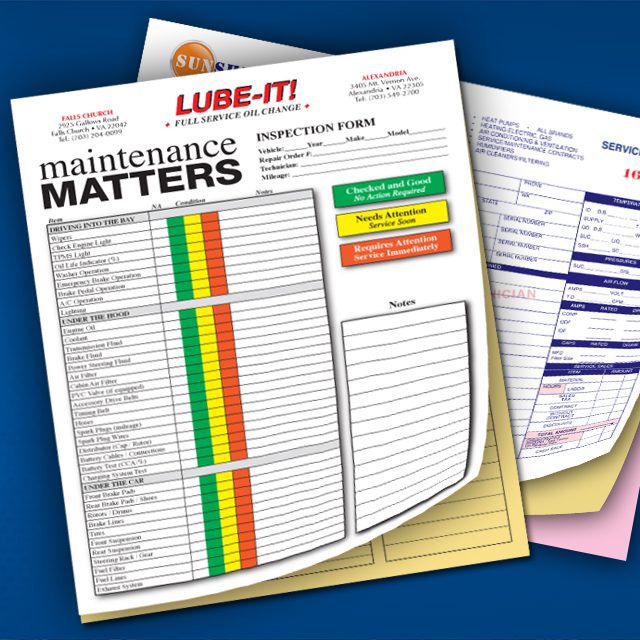 Full Color Carbonless Forms are the perfect way to showcase your business in the best light possible. These forms are printed in full color, allowing your logo or images to stand out in their original colors. With this high-quality printing, you'll be able to make a lasting impression on clients and customers alike.
Full Color Carbonless Forms are an essential part of promoting your brand and ensuring that your forms stand out from the rest.
CreationStationPrinting offers the most advanced full color printing for all your carbonless forms needs. If you are looking for a quality custom carbonless forms service, you have come to the right place.  Get your full color forms customized according to your choice of color and design, including the sequential numbering and backside printing. CreationStationPrinting is the leader in Full Color Carbonless Forms Printing; we have the latest technology and equipment to print your forms with any Pantone colors quickly and easily.
Carbonless Forms Available with the following options:
2-part and 3-Part Forms
FULL COLOR Printing
1 or 2 side printing
Sequential Numbering
We use state-of-the-art Full Color Carbonless Forms presses that allow us to print on both sides of the page in Full Color with outstanding image clarity and vibrancy. Our Full Color Carbonless Forms are ideal for short run carbonless form printing needs. Whether you need 500 or 5,000 Full Color Carbonless Forms, CreationStationPrinting can get the job done fast and at a price that fits your budget.
Contact us today to learn more about our Full Color Carbonless Forms printing services!
Check out HERE some other products like this one!
Thanks for Reading!
Takeaway
At Creation Station Printing, we believe in providing our clients with everything they need under one roof. This means that we offer a wide range of services and products that cater to your specific needs and requirements.
We have a team of experts who are available to help you every step of the way. So if you're looking for quality printing services that will exceed your expectations this is the place to be.
Imagine, being able to go to your print provider, get every single item you might need from one place, and know that you are going to get the best price at all times.
Now that's loyalty. 
Check out Creation Station Printing today and ask them about their custom branded storefronts. This will start the conversation that could change the way your company does print forever.
Want to Learn More?
Check out more info about how we can build you your own custom branded business storefront and let us become your in house print shop today!