Make Scientific Research Poster that Get Attention!
Scientific Research poster has been proven to be an extremely effective visual tool for presenting scientific knowledge. They are commonly used by scientists, researchers and medical experts to share their new findings with colleagues and the general public. Scientific research poster present information in a clear and concise way, making them ideal for anyone who wants to learn more about a particular topic.
In this blog post, we will take a closer look at what scientific posters are, and explore some of the different ways they can be used to communicate scientific information.
Scientific research posters are typically created by scientists, researchers or medical experts who are discussing new findings or ideas. The posters are designed to be easily understood by those who are not experts in the field, and to provide information on topics that the authors are currently researching.
Scientific posters usually contain key points, diagrams or images that help explain the main idea of the poster. In some cases, scientific posters may also include contact information for the author so that readers can get more information about the research.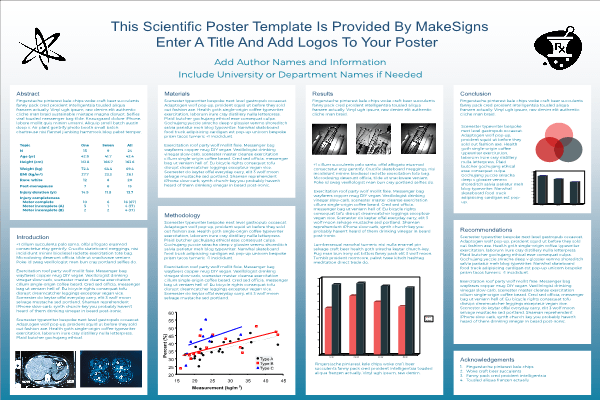 Scientific Research Poster can be used for a variety of purposes, such as presenting new research findings at conferences, sharing ideas with colleagues, or educating the general public about a particular topic. Scientific posters can also be used as a teaching tool in classrooms or as a way to promote scientific literacy!
What's the purpose of a scientific research poster?
Scientific papers can be daunting to read for someone without a background in the field. The language and syntax are often challenging, and the papers are structured in a way that prioritizes the exposition of data, methods, and results over reading flow. However, peers who are familiar with the field can usually read and understand these papers pretty easily. They're also able to dissect every aspect of the paper and provide useful feedback.
This is why it's so important for scientists to present their work at conferences where they can interact with their peers. Scientific posters are also a great way to communicate research findings to a wider audience, as they provide a concise overview of the work that can be understood by people with any level of scientific knowledge.
A well-made poster will have images that explain complicated terms, a layout that is easy to read, and language that is understandable. Scientific posters are an excellent way to communicate research findings to a wide audience. They provide an excellent way to communicate complex information in a way that is easily understood by all.
Scientific posters are an excellent way for researchers to communicate their findings to the public. By using simple language and easy-to-understand concepts, scientific posters allow everyone to understand the great work that is being done in the field of science.
At Creation Station Printing, We create scientific research poster that is often an attractive and easy-to-read presentation of scientific research. They may include images, diagrams, graphs and tables, and they often focus on one or two main points! Combining data and design together makes it easy for readers to dissect information easily!
Our poster maker guarantees that you'll make the most intuitive and well-designed scientific posters in a single session. With our easy-to-use tools, you'll be able to create stunning posters that will grab attention and get your point across clearly. So don't hesitate – give our poster maker a try today!
Order Your Scientific Research Poster Today!
Contact us today to learn more about other Indoor Signs for your Business!
Thanks for Reading!
Takeaway
At Creation Station Printing, we believe in providing our clients with everything they need under one roof. This means that we offer a wide range of services and products that cater to your specific needs and requirements.
We have a team of experts who are available to help you every step of the way. So if you're looking for quality printing services that will exceed your expectations this is the place to be.
Imagine, being able to go to your print provider, get every single item you might need from one place, and know that you are going to get the best price at all times.
Now that's loyalty. 
Check out Creation Station Printing today and ask them about their custom branded storefronts. This will start the conversation that could change the way your company does print forever.
Want to Learn More?
Check out more info about how we can build you your own custom branded business storefront and let us become your in house print shop today!