Print Fold Over Business Cards For Your Business
Fold Over business cards are an interesting twist on regular cards. These cards have four visible sides, allowing for more information to be incorporated into the card. Folded business cards are perfect for starting memorable conversations.
The extra panel on the card is a great way to add information about your business. Folded Over business cards are a great way to stand out from the crowd. These cards are sure to elicit memorable conversations.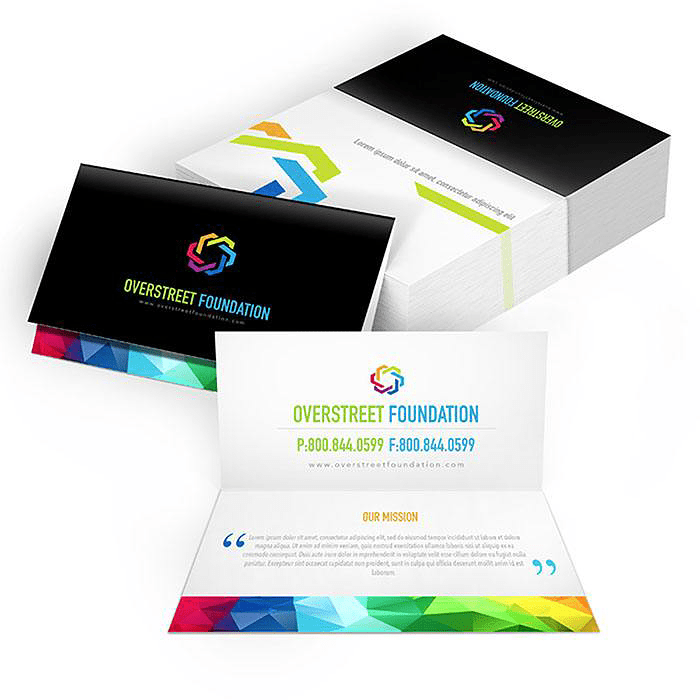 Fold Over business cards offer a unique and stylish way to promote your business!
Unlike traditional business cards, folded business cards are printed on both sides and then scored so they can be easily folded.
This allows you to include more information on your card, such as your website or social media information.
Folded business cards also come with a free gloss aqueous coating, which makes them more durable and gives them a high-quality finish.
You can also choose to add a UV coating for extra shine and durability.
Folded business cards are produced in 4 days, but you can also choose to have them rushed if you need them sooner.
They come packaged in clear, durable packaging that protects your cards and makes them easy to access.
Standard Sizes:
• 3.5″ x 4″ flat, even folded to 3.5″ x 2″
• 3.5″ x 3.75″, offset folded to 3.5″ x 2″
• 7″ x 2″, vertical folded to 2″ x 3.5″
Paper Options
Thick, high-quality cover stocks:
120# Gloss Cover 14pt
120# Dull/Matte Cover 14pt
100# Uncoated Cover 14pt
Recycled and Custom Papers
When you really want to do something unique with your folded business card, consider adding one of our many custom print effects, including rounded corners or a perforation to allocate prospects to simply tear off one of the panels. You can also add elements like foil stamping, UV coating, metallic inks, and embossing to make your folded over business card really special and unique.
Folded over business cards offer a unique way to stand out from the competition and pique the interest of customers. By allowing you to customize the look of your business cards, you can create a card that is truly unique and eye-catching. folded over business cards are also highly versatile, allowing you to use them for both formal and informal occasions.
Whether you are attending a networking event or meeting with a potential client, fold over business cards will give you the professional edge that you need to succeed. Ordering your folded over business cards online is fast and easy!
CreationStationPrinting offers a wide variety of design options to choose from. Our knowledgeable team will handle your most creative and challenging marketing strategies. We'll find the right solution for your custom printing project from a wide selection of products and options and create a look that is as unique as your business. With our online ordering system, you can select the perfect design for your business, upload your own logo, and even add a personal message.
So why wait? Order your Fold over business cards today!
Takeaway
At Creation Station Printing, we believe in providing our clients with everything they need under one roof. This means that we offer a wide range of services and products that cater to your specific needs and requirements.
We have a team of experts who are available to help you every step of the way. So if you're looking for quality printing services that will exceed your expectations this is the place to be.
Imagine, being able to go to your print provider, get every single item you might need from one place, and know that you are going to get the best price at all times.
Now that's loyalty. 
Check out Creation Station Printing today and ask them about their custom branded storefronts. This will start the conversation that could change the way your company does print forever.
Want to Learn More?
Check out more info about how we can build you your own custom branded business storefront and let us become your in house print shop today!