Spiral Bound Books – Bind Your Documents in a professional Manner
Spiral Bound Books are a popular choice among all kinds of professionals because it is much simpler in design and application than other types of binding methods. Other binding methods have certain limitations in terms of page counts, cover designs, etc. On the other hand, spiral binding books printing, is often used by professionals as an easy way to dress up a stack of copies to be more professional. Spiral binding also prevents pages from falling out and getting lost, which is a common issue with stapled or paper-clipped packets of information. For frequent reference items, such as phone books or manuals, spiral binding provides durability that will resist tearing and give the book a longer lifespan.
In addition, the spiral binding method can be done relatively cheaply and quickly, making it a good option for businesses or individuals on a budget that need a large number of bound documents in a short amount of time. Overall, the simplicity and versatility of spiral binding make it a popular choice for professionals in many different fields.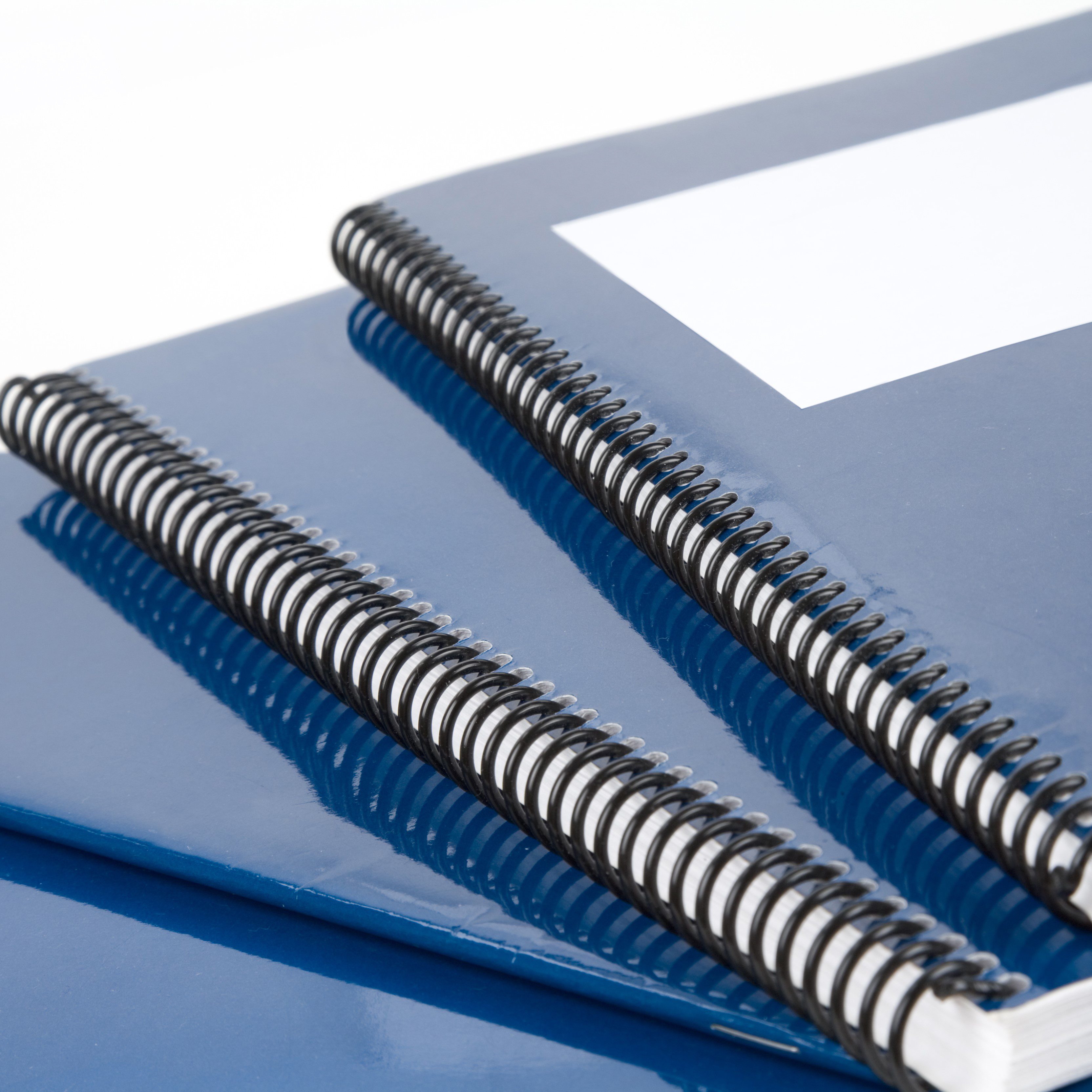 Spiral Bound Books are a safe, practical alternative to wire-o binding. Spiral binding allows the pages of the book pages to lay completely flat, or even turn back on themselves. This makes this the perfect style of bind to choose for notebooks and manuals; particularly in situations where using wire would be considered less safe. 
Additionally, spiral bound books are often more affordable than their wire-o counterparts, making them a great option for budget-conscious shoppers. Whether you're looking for a safe binding option for your notebook or manual, or you're simply looking for a more affordable alternative to wire-o binding, spiral binding is the perfect choice.
Here at CreationStationPrinting, we print all of our products using the highest quality technology available. Spiral binding books are no exception - we use either lithographic printing with LED UV inks or HP Indigo digital printing, both of which produce superior results. Our commitment to using the best possible technology ensures that you'll be happy with your purchase, and it's why we're able to offer a total satisfaction guarantee. So when you need spiral binding books printed, you can rest assured that you'll receive a top-quality product from us.
Spiral binding is a popular choice for those looking to bind their documents in a professional and secure manner!
Here at CreationStationPrinting, we offer a wide range of spiral binding options to suit your specific needs. Our team of experts are on hand to punch and bind your documents quickly and efficiently, using the latest automated machinery and electric coil winders. This ensures that your documents are bound securely and in a timely manner. Spiral bound books are also perfect for those who need to transport their documents regularly, as they are much less likely to fall out than documents that are simply stapled together.
So if you're looking for a reliable and professional Spiral binding books service, look no further than CreationStationPrinting!
To know more about Booklets & Calendars, just Contact us HERE or call us at 512-430-1223. You can also choose to chat with us via out "Live Chat" button. We are more than willing to assist you on all your printing needs!
Thanks for Reading!
Takeaway
At Creation Station Printing, we believe in providing our clients with everything they need under one roof. This means that we offer a wide range of services and products that cater to your specific needs and requirements.
We have a team of experts who are available to help you every step of the way. So if you're looking for quality printing services that will exceed your expectations this is the place to be.
Imagine, being able to go to your print provider, get every single item you might need from one place, and know that you are going to get the best price at all times.
Now that's loyalty. 
Check out Creation Station Printing today and ask them about their custom branded storefronts. This will start the conversation that could change the way your company does print forever.
Want to Learn More?
Check out more info about how we can build you your own custom branded business storefront and let us become your in house print shop today!