Standard Table Throw – Great way to Enhance any Event or Tradeshow Display
Standard Table Throw covers are designed for quick and easy use, and look great. All corners are rounded meaning they don't gather in the corners and lay on the floor. Standard Table Throw is made from woven polyester. These throw style table covers are sure to impress! Standard Table Throw can be used as an effective marketing tool at trade shows or conventions.
They can also be used at banquets, corporate events, or any other type of special event. A Standard Table Throw can help add a touch of class to any event while also providing a functional storage solution.
A standard table throw is a piece of fabric that is draped over the front and sides of a tradeshow table. Table throws are an important part of any trade show booth, as they help to create a professional and polished look.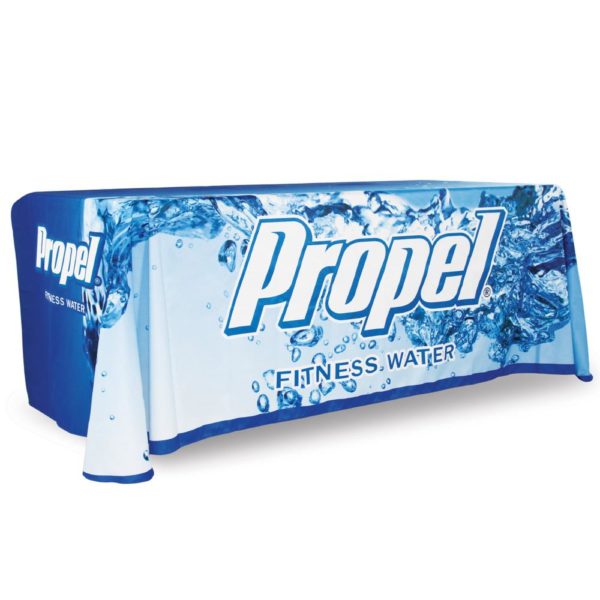 In addition, table throws can be printed with logos or other branding materials, making them an excellent way to promote your business. Standard table throws are sized to fit 4ft, 6ft, and 8ft tables, so you can choose the perfect size for your needs. Whether you're looking to add a pop of color or create a cohesive display, table throws are a great option.
Standard Table Throw Feature:
Fits Standard 8ft Table
Made of Poplin Woven Polyester
Easy Care Machine Washable and Dryer Safe
Full-Color Imprint on Front Panel Included!
Covers four sides of the table
Artwork is imprinted on the front of the table throw
Standard table throws are a simple and effective way to enhance any event or tradeshow display.
They are available in a variety of colors and sizes to fit any need, and can be custom printed with logos, images, or text to create a truly unique look. Made from premium quality polyester, they are easy to care for and can be easily washed. Dye sublimation is a printing process that allows for detailed or photographic images to be printed on the fabric. This results in a durable and long-lasting design that is sure to make a statement at any event. Standard table throws are an affordable way to add style and sophistication to any display.
At CreationStationPrinting, we offer the widest selection of Standard Table Throws in Austin. We have a wide selection of shapes, sizes, and fits that give you flexibility to match your branding, equipment, and style. Full dye sub printing ensures that your custom tablecloth graphics are long lasting. Our Standard Table Throw is the perfect finishing touch to any trade show booth or other event.
Order your Standard Table Throw today!
For more questions about Table Throws & Table Runners, just Contact us HERE or call us at 512-430-1223. You can also choose to chat with us via out "Live Chat" button. We are more than willing to assist you on all your printing needs!
Thanks for Reading!
Takeaway
At Creation Station Printing, we believe in providing our clients with everything they need under one roof. This means that we offer a wide range of services and products that cater to your specific needs and requirements.
We have a team of experts who are available to help you every step of the way. So if you're looking for quality printing services that will exceed your expectations this is the place to be.
Imagine, being able to go to your print provider, get every single item you might need from one place, and know that you are going to get the best price at all times.
Now that's loyalty. 
Check out Creation Station Printing today and ask them about their custom branded storefronts. This will start the conversation that could change the way your company does print forever.
Want to Learn More?
Check out more info about how we can build you your own custom branded business storefront and let us become your in house print shop today!