Standard Vinyl Banners – Affordable Marketing Tool
Standard vinyl banners are one of the most versatile and affordable marketing tools available. They can be hung from ceilings, attached to tables, or even placed on banner stands, making them ideal for both indoor and outdoor use. Vinyl banners are also very cost-effective to produce, and they can be customized with full-color graphics, different sizes, grommet holes, and other features.
Whether you need a pre-made banner or something completely unique, standard vinyl banners offer an excellent solution for your marketing needs.
Standard Vinyl Banners are a must have for any type of event. They are very durable, repel liquids and can withstand a large number of environmental conditions. The only time the standard banner falls short is when it is windy outside. Although this type of banner can be produced with wind slits it makes the banner, as a whole, look unsightly and creates a loss in its impact. For situations where wind might be an issue it is best to go with a Heavy Weight Vinyl Banner.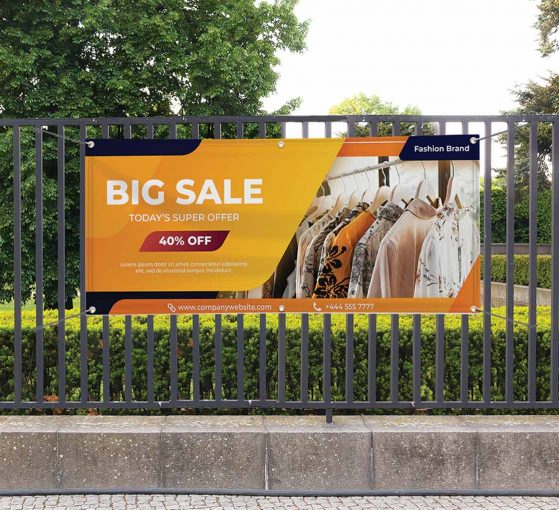 Standard Vinyl Banners are one of the most popular and cost-effective advertising solutions for businesses of all sizes. They are durable, easy to install, and can be used in a variety of locations. Additionally, vinyl banners are a great way to build brand awareness and reach new customers.
If you are looking for an inexpensive way to promote your business or event, a standard vinyl banner is a great option.
Businesses can use vinyl banners to promote sales, grand openings, special events, and more. With so many benefits, it's no wonder that vinyl banners are becoming increasingly popular as a cost-effective advertising solution.
Standard vinyl banners are the most common type of banner that can be seen outside a building. They are durable, long lasting and provide plenty of space to communicate a message. Standard vinyl banners come in a variety of sizes and can be customized to meet your specific needs.
Standard vinyl banners are a great investment for any business. They are very inexpensive to purchase and can be used over and over again. In addition, they are extremely effective in getting the word out about your business. Overall, the investment on a vinyl banner is a very inexpensive out of pocket expense. This is especially true as the banner is used over and over again. In general, a banner will pay for itself the first time it is used and then over again after that. If you are looking for an inexpensive way to advertise, outdoor vinyl banners are effective in both cost and return on investment.
At CreationStationPrinting, we specialize in printing banners and signs of all shapes and sizes. Our standard vinyl banner sizes are some of the most popular among our customers. These banners are made from durable vinyl material that can withstand the elements, making them perfect for both indoor and outdoor use.
Standard vinyl banner sizes include 2'x4', 3'x6', 4'x8', and 6'x12'. Whether you need a banner for a special event or you want to promote your business, our standard vinyl banner sizes are sure to meet your needs.
Contact us today to learn more about our standard vinyl banner or to place an order!
Thanks for Reading!
Takeaway
At Creation Station Printing, we believe in providing our clients with everything they need under one roof. This means that we offer a wide range of services and products that cater to your specific needs and requirements.
We have a team of experts who are available to help you every step of the way. So if you're looking for quality printing services that will exceed your expectations this is the place to be.
Imagine, being able to go to your print provider, get every single item you might need from one place, and know that you are going to get the best price at all times.
Now that's loyalty. 
Check out Creation Station Printing today and ask them about their custom branded storefronts. This will start the conversation that could change the way your company does print forever.
Want to Learn More?
Check out more info about how we can build you your own custom branded business storefront and let us become your in house print shop today!