Store Front Flag – To Attract Attention To Your Store
The Store Front flag is a versatile and durable option for advertising your business. Its heavy steel square base provides support while on display, and the pole is made of up materials such as aluminum, plastic and fiberglass. The banner design is customized to your graphic artwork, and is printed on a polyester mesh by the process of dye sublimation (single-sided or double-sided options). This makes it a great option for both indoor and outdoor use.
Whether you're looking to attract attention to your storefront or simply want to promote your brand, the Store Front flag is a great way to do it.
The Store Front Flag is the newest addition to the Flag product printing for business advertising. The Store Front Flag is designed for use outside in front of your store but can also be used indoors. The heavy steel base provides ample weight and stability when used outdoors.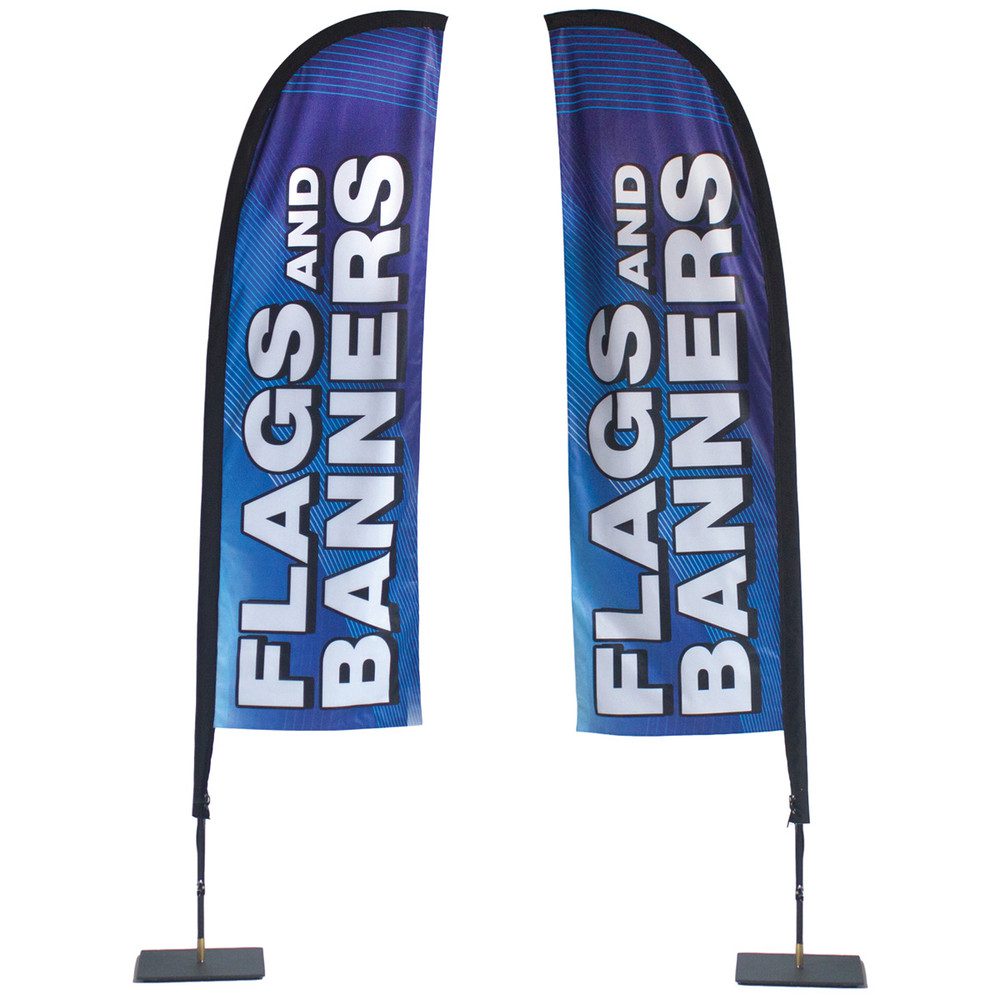 The Store Front Flag is also easy to set up and take down, thanks to the quick-release mounting bracket. And, like all Falcon Flags, the Store Front Flag is made from high-quality materials and backed by a lifetime warranty.
So if you're looking to attract attention to your store or add a touch of style to your indoor space, the Store Front Flag is the perfect choice.
Store front flags are an excellent way to get potential customers to see your company's logo and name.
They can be placed on the sides of buildings or on busy streets and sidewalks. This type of advertising is very effective because it is difficult to ignore. Store front flags are also relatively inexpensive, making them a great option for small businesses.
Nylon flags are another type of large format printing that can be used for marketing purposes. Nylon flags are usually installed on the tops of buildings or on flag poles. They are often used to promote special events or holidays. Plastic signs are another popular form of large format printing.
Plastic signs can be used indoors or outdoors. They are often used to advertise sales or special events. Plastic signs are durable and weather resistant, making them a good choice for outdoor use. Large format printing is a great way to get your company's name and logo out in the public eye. Store front flags, nylon flags, and plastic signs are all excellent marketing tools that can help to increase brand awareness and generate new customers.
Store Front flags are an excellent way to advertise sales and special events. They are large and brightly colored, making them impossible to miss. Store Front flags are also very durable, meaning they can withstand bad weather and continue to look great.
Plus, Store Front flags can be hung from ceilings and walls, making them versatile and easy to use. So if you're looking for a way to grab attention and promote your business, Store Front flags are the perfect solution.
At CreationStationPrinting, we understand that your brand's identity is important to you. That's why we offer high quality Store Front flags that can be easily taken apart and reassembled, for maximum convenience and portability.
So we have made sure that we can also provide our customers with the option of our Flag Printing Solutions.
With our flags, you can display your brand's identity in a stylish and modern way. Our products are made of high quality materials and are designed to withstand the elements.
So if you're displaying your brand at a trade show or in your storefront, you can be confident that your Store Front flag will look great.
Contact us today to learn more about our Flag printing solutions!
Thanks for Reading!
Takeaway
At Creation Station Printing, we believe in providing our clients with everything they need under one roof. This means that we offer a wide range of services and products that cater to your specific needs and requirements.
We have a team of experts who are available to help you every step of the way. So if you're looking for quality printing services that will exceed your expectations this is the place to be.
Imagine, being able to go to your print provider, get every single item you might need from one place, and know that you are going to get the best price at all times.
Now that's loyalty. 
Check out Creation Station Printing today and ask them about their custom branded storefronts. This will start the conversation that could change the way your company does print forever.
Want to Learn More?
Check out more info about how we can build you your own custom branded business storefront and let us become your in house print shop today!