Sunbird Flag - Great Way to Attract Advertise Your Business
Sunbird Flag is a great way to attract shoppers and advertise your business! This flag banner stands 12 feet (12') tall with a flexible pole that keeps the fabric taut and readable at all times. Custom printed with your design, the flag banners are a polyester mesh material printed dye sublimation, hand-stitched, and made in America.
Sunbird Flag is also double-sided so your message can be seen coming and going! Sunbird Flag is the perfect way to get your message across!
Sunbird Flag is a great way to get your message out there! They are tall and shapely, making them very effective for storefronts, sidewalks, festivals, indoor applications, or any hard surface.
You can add the spike base for in-ground applications. The single-sided flag images are printed on one side and the ink bleeds through the mesh fabric to the backside of the flag. Logos, images, and text will be visible on the back but will read in reverse. The double-sided flags read correctly from both directions; this is a good option if your graphic is complex or for indoor applications. Sunbird Flags are sure to get you noticed!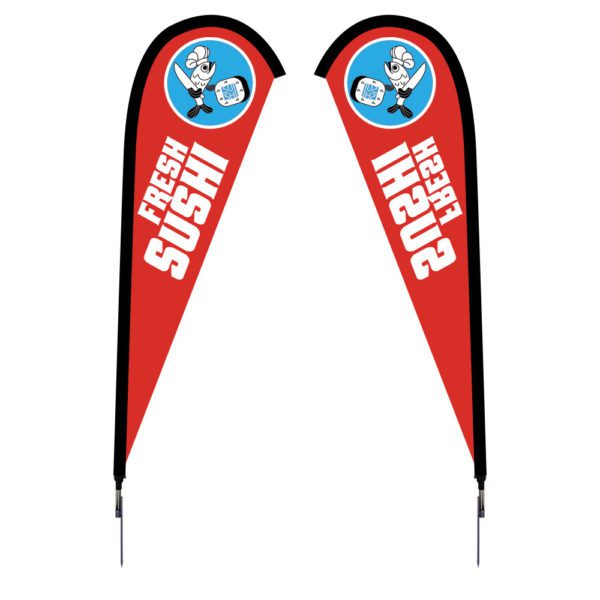 Benefits of Sunbird Flag:
Generate awareness for your company from far away
Lets customers know where your booth or business is
Lightweight, Portable and Easy to Assemble
Includes full color single sided fabric graphic
Optional double sided graphic for branding on both front and back
Sunbird flags are designed to make a bold statement. Their unique shape is eye-catching, and their sturdy yet lightweight construction makes them easy to assemble and take down. Plus, their full-color, weather-resistant polyester fabric ensures that they'll be able to withstand even the harshest elements.
Whether you're looking for a way to add some extra flair to your next event or you're simply in need of a reliable and eye-catching flag, Sunbird flags are the perfect solution.
As a business owner, you know that advertising is essential to attracting new customers and driving sales. But with the wide variety of advertising options out there, it can be difficult to know where to start. That's where we come in. Here at CreationStationPrinting, we specialize in producing high-quality advertising products that get results.
From Yard signs and stickers to Window Signs and trade show displays, we have everything you need to get your business noticed. And with our fast production and delivery times, you can be sure that your advertising campaign will be up and running in no time.
So what are you waiting for? Order your Sunbird flag and let's get started promoting your brand today!
To know more about our products please contact our helpful and knowledgeable customer service representatives at 512-430-1223 or Visit our website HERE
Takeaway
At Creation Station Printing, we believe in providing our clients with everything they need under one roof. This means that we offer a wide range of services and products that cater to your specific needs and requirements.
We have a team of experts who are available to help you every step of the way. So if you're looking for quality printing services that will exceed your expectations this is the place to be.
Imagine, being able to go to your print provider, get every single item you might need from one place, and know that you are going to get the best price at all times.
Now that's loyalty. 
Check out Creation Station Printing today and ask them about their custom branded storefronts. This will start the conversation that could change the way your company does print forever.
Want to Learn More?
Check out more info about how we can build you your own custom branded business storefront and let us become your in house print shop today!