Table Runners – Great Way to promote Your Message
Table runners are a great way to add a touch of style and personality to your event. Whether you're hosting a wedding, conference, trade show, or anniversary, our custom-printed table runners are the perfect way to make your event stand out. With wide selection of designs and colors, you're sure to find the perfect table runner for your event.
Plus, table runners are made from high-quality materials that are durable and easy to clean. So, you can rest assured that your table runner will last long after your event is over.
Table Runners are a versatile solution when you need to add branding to a table. Transform tables of any size or shape with a custom Table Runner that promotes your message while it brings a sense of occasion to the proceedings.
Table Runners can be used indoors or outdoors, and are available in a variety of materials to suit your needs. Choose from polyester, vinyl, or fabric Table Runners, all of which can be custom-printed with your logo or message.
Table Runners are an easy way to add a touch of class to any event, and they're also a great way to promote your brand.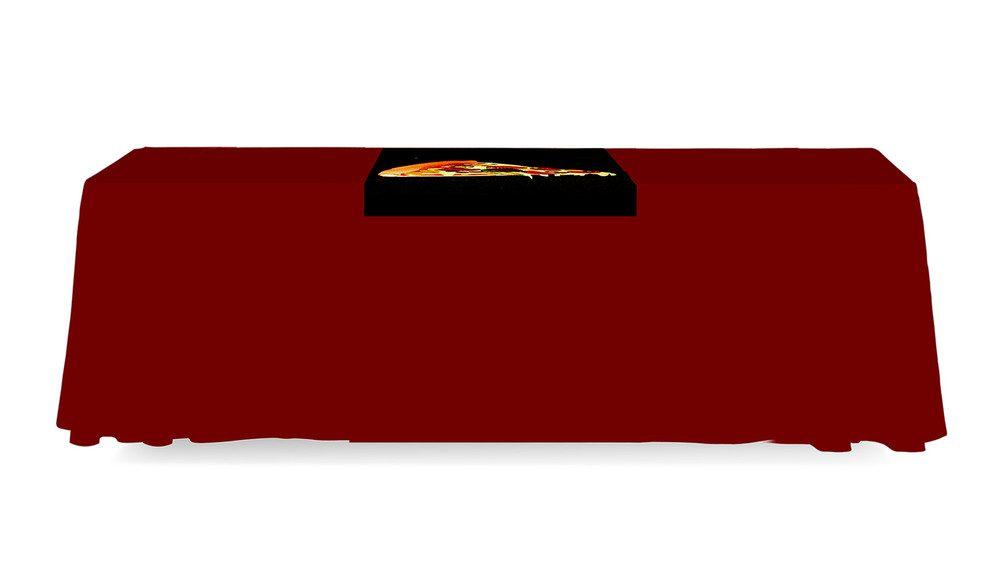 Table runners are an eye-catching way to brand your company at your next trade show, display, sale or event. Retail stores use table runners for display purposes to enhance marketing campaigns. Our custom printed table runners are also very popular with schools and community organizations.
Made from high quality polyester fabric and with a full color digital print, Table runners are perfect for displaying your brand or logo. They can also be used to promote special offers, events or campaigns. Table runners are a cost-effective way to make a big impact at your next exhibition or event.
Table runners are a great way to add a splash of color and style to any event. Whether you're setting up for a trade show, convention, or exhibition, a custom printed table runner can help your booth stand out from the crowd. Table runners are also an excellent marketing tool, providing a cost-effective way to display your company logo and branding.
With full color digital fabric printing, there is no limit to the number of colors or the complexity of your design. So whether you're looking for a simple and elegant tablecloth or a bold and eye-catching statement piece, custom printed table runners are an ideal solution.
Custom Table Runners Assist You:
Stand out from competitors
Enhance promotional campaigns
Generate new leads
Tell people who you are
Communicate key service benefits
Table Runners Features:
Lightweight & Portable, great for travel to events
Durable fabric
Machine Washable
Treated with a unique non-slip coating
Full colour photographic quality printing
All setup and design included
Table runners are a great way to add a pop of color and style to any event. At CreationStationPrinting, we offer high quality Table runners in Austin. Our expert design team will ensure your table runner meets all your branding requirements by providing free artwork concepts and accurately matching corporate colors.
We also offer a wide range of sizes and materials to choose from, so you can find the perfect Table runner for your next event.
Contact us today to learn more about our printing services in Austin. Give us a call 512-430-1223 to see how we can help you maximize your business advertising and marketing potential!
Thanks for Reading!
Takeaway
At Creation Station Printing, we believe in providing our clients with everything they need under one roof. This means that we offer a wide range of services and products that cater to your specific needs and requirements.
We have a team of experts who are available to help you every step of the way. So if you're looking for quality printing services that will exceed your expectations this is the place to be.
Imagine, being able to go to your print provider, get every single item you might need from one place, and know that you are going to get the best price at all times.
Now that's loyalty. 
Check out Creation Station Printing today and ask them about their custom branded storefronts. This will start the conversation that could change the way your company does print forever.
Want to Learn More?
Check out more info about how we can build you your own custom branded business storefront and let us become your in house print shop today!