Vinyl Bumper Stickers – Cost Effective Way of Business Advertising
Vinyl bumper stickers are a fantastic way to show support for your favorite team, politician, or cause. But did you know that they can also help to promote your business or event? Custom cut vinyl stickers are a cost-effective way to get your message out there, and they're also durable and weather-resistant, making them ideal for outdoor use. Vinyl stickers are also easy to apply and remove, so they won't damage your car paint or glass. So whether you're looking to show your pride or get the word out about your latest product or sale, custom cut vinyl stickers are a great option.
Vinyl bumper stickers are one of the most popular ways to promote businesses and individuals.
They are durable, weatherproof and make a big impact. Vinyl bumper stickers are typically printed on white or clear vinyl using a four-color printing process. This allows for full-color images and logos to be printed on the sticker.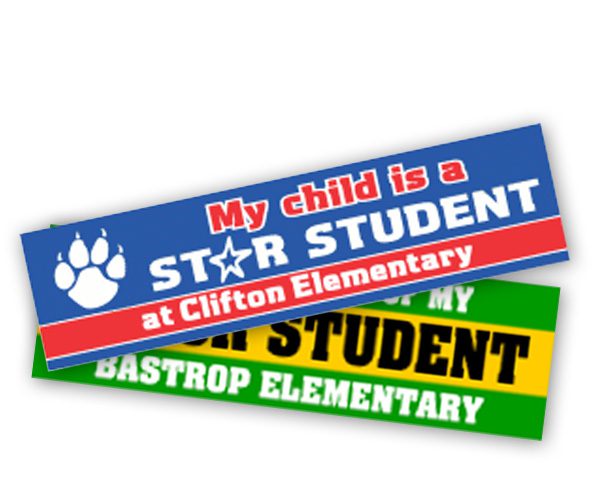 Vinyl bumper stickers can be printed in any size, but are most commonly found in oval or rectangular shapes. Vinyl bumper stickers can be applied to any smooth, clean surface. Bumper Stickers are commonly applied to cars, trucks, SUVs, boats, RVs, motorcycles, bicycles and more. Vinyl bumper stickers are also popular for windows, walls and floors.
Vinyl bumper stickers are a hot commodity in the global market today. They boast amazing designs, prints, and contents that will make a lasting impression on anyone who sees them. And, best of all, they can be purchased in bulk at CreationStationPrinting for a very reasonable price. Vinyl bumper stickers are self-adhesive and therefore cannot be compromised. This makes them the perfect way to show your support for a cause or show your sense of style.
Vinyl bumper stickers are one of the most popular types of car stickers on the market. They are made up with a special quality material which is called as vinyl. Owing to self adhesive nature of vinyl, bumper decals can surely stay on your surfaces for a very long period of time. More importantly, custom vinyl and car stickers come in each style, design, color, size and shape according to your specific business needs and requirements in style.
If you want to create a strong and lasting impression on your potential customers' minds, then you should definitely invest in high quality vinyl bumper stickers.
Vinyl is a material that is both durable and flexible, making it the perfect material for car stickers. Vinyl bumper stickers can be printed with any design or message that you want, making them a great way to promote your business.
So don't wait any longer, order your vinyl bumper stickers today!
Contact us today to learn more about our Vehicle Signs like this one!
Thanks for Reading!
Takeaway
At Creation Station Printing, we believe in providing our clients with everything they need under one roof. This means that we offer a wide range of services and products that cater to your specific needs and requirements.
We have a team of experts who are available to help you every step of the way. So if you're looking for quality printing services that will exceed your expectations this is the place to be.
Imagine, being able to go to your print provider, get every single item you might need from one place, and know that you are going to get the best price at all times.
Now that's loyalty. 
Check out Creation Station Printing today and ask them about their custom branded storefronts. This will start the conversation that could change the way your company does print forever.
Want to Learn More?
Check out more info about how we can build you your own custom branded business storefront and let us become your in house print shop today!