A Frame Signs - Affordable Way for Business Advertising
A frame signs, otherwise known as sandwich boards, are double-sided visual communication tools that are portable and versatile. Since they can be moved around in indoor or outdoor settings, you don't have to spend for professional installation. A frame signs are an excellent way to grab attention and communicate your message clearly.
A frame signs are also very affordable, making them a great choice for budget-conscious businesses.
When used effectively, A frame signs can help you increase foot traffic, boost sales, and build brand awareness. If you want to make the most of your signage investment, we also recommend interchangeable displays, allowing you to update the contents of your advertisement and reuse them for many years. With A frame signs, you can have the flexibility and versatility you need to effectively promote your business.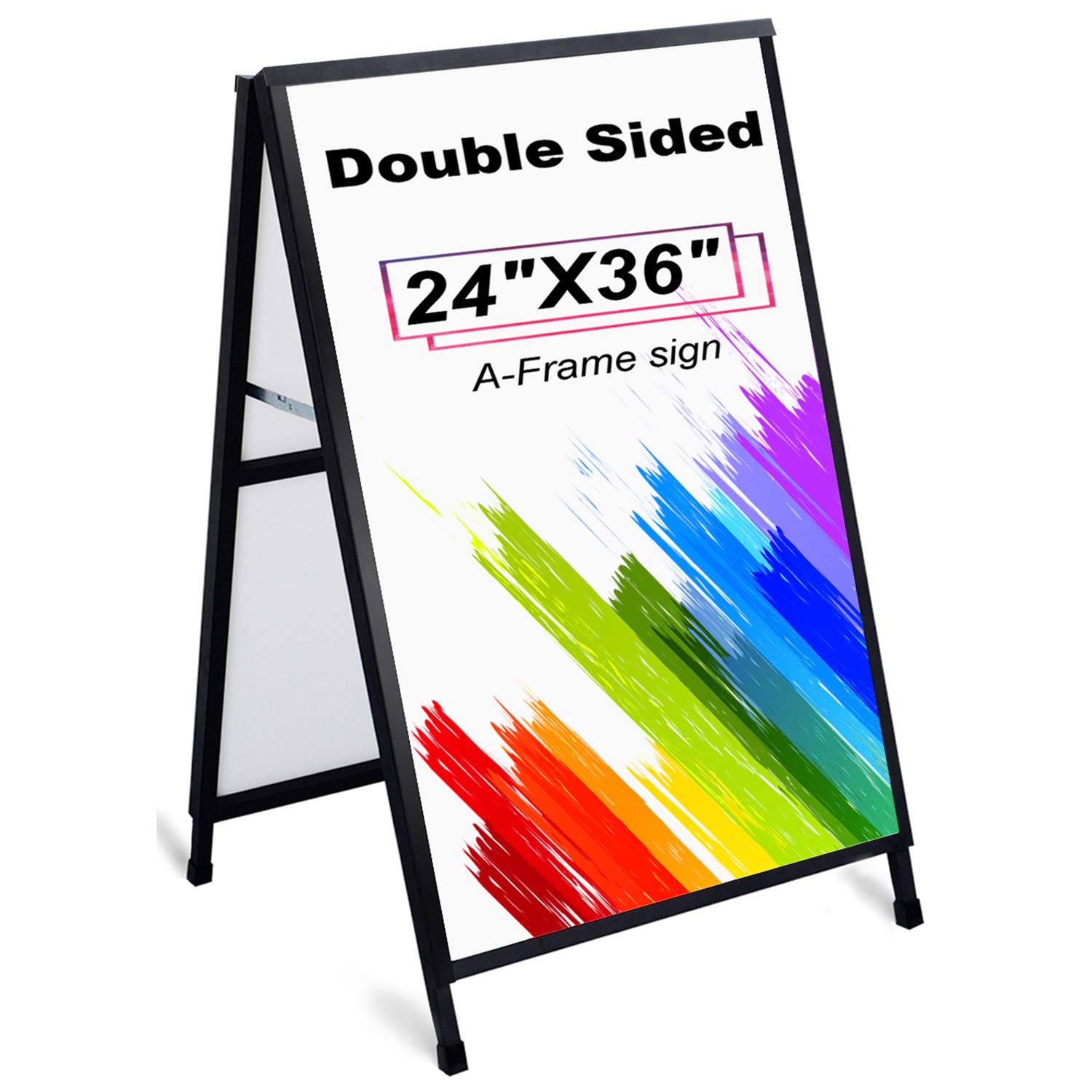 A Frame Signs are a great sturdy option for advertising, great to capture walk by traffic, can be seen from the road and great for easy location, handling and storage. A frame sign is also semi-permanent so it's perfect for regular or long-term use.
A frame signs can be made from different materials like wood, metal or plastic and come in many sizes. They are also double sided so your message can be seen from both sides. A frame signs are an affordable way to get your message out there and seen by many people.
There are different Types of A frame Signs for Business advertising:
Sidewalk and storefront advertising:
A-Frame signs are one of the most popular types of sidewalk and storefront advertising. They are affordable, easy to set up, and can be used to promote a variety of different messages. A-Frame signs can be placed directly in front of your store or along busy sidewalks, helping to increase your visibility and catch the attention of potential customers. You can use A-Frame signs to showcase your trademark, newest products, signature services, ongoing discounts, special bundles, and more. You can also display basic business-related information, such as your contact number and store hours. A-Frame signs are a great way to boost your overall sales and increase foot traffic in your store.
Safety signs:
A-frame signs are a great lightweight solution for warning public about specific hazards. Some common messages include "wet floor" and "watch your step". When the danger has been resolved, you can keep your sign and reuse it when needed. Not only are these signs an effective approach to prevent accidents, but they are also inexpensive and simple to store. So next time you need to warn people about a potential hazard, consider using a plastic A-frame sign.
Greetings:
A-frame signs are a versatile and affordable way to promote your business. Whether you're welcoming customers, thanking guests, or promoting an event, A-frame signs are an eye-catching way to get your message across. A-frame signs are also easy to set up and take down, making them perfect for temporary or permanent use. Position your A-frame sign in a high-traffic area so it's visible without obstructing the flow of foot traffic.
At CreationStationPrinting, we offer high-quality plastic A-frame signs that are perfect for promoting sales and special events. Our A-frame signs are made from durable materials that can withstand the elements, and they come in a variety of sizes and styles to fit your needs. Whether you're looking for a basic A-frame sign or something more elaborate, we have the perfect solution for you.
Contact us today to learn more about our A-frame signs options.
Here are some other products like this one!
Thanks for Reading!
Takeaway
At Creation Station Printing, we believe in providing our clients with everything they need under one roof. This means that we offer a wide range of services and products that cater to your specific needs and requirements.
We have a team of experts who are available to help you every step of the way. So if you're looking for quality printing services that will exceed your expectations this is the place to be.
Imagine, being able to go to your print provider, get every single item you might need from one place, and know that you are going to get the best price at all times.
Now that's loyalty. 
Check out Creation Station Printing today and ask them about their custom branded storefronts. This will start the conversation that could change the way your company does print forever.
Want to Learn More?
Check out more info about how we can build you your own custom branded business storefront and let us become your in house print shop today!