Aluminum Dibond Signs – Excellent Way to Amplify Your Brand Voice
Aluminum Dibond signs are tough and resilient, making them perfect for a wide range of applications. By combining two layers of metal with a sturdy plastic core, dibond signs are stronger than aluminum signs and more resistant to bending. They're also lighter weight and long-lasting, meaning they won't be damaged by harsh weather conditions. Whether you're looking for regulatory street displays or appealing wall art pieces, Aluminum dibond signs are the perfect solution.
Aluminum Dibond Signs are an excellent way to amplify your brand voice and create an elegantly printed trademark.
These signs are perfect for exterior or interior showcasing and can be customized to match your vision. Ordering is quick and easy, and the finished product will provide your office with a professional look. Aluminum Dibond Signs are a great way to make a lasting impression on clients and customers.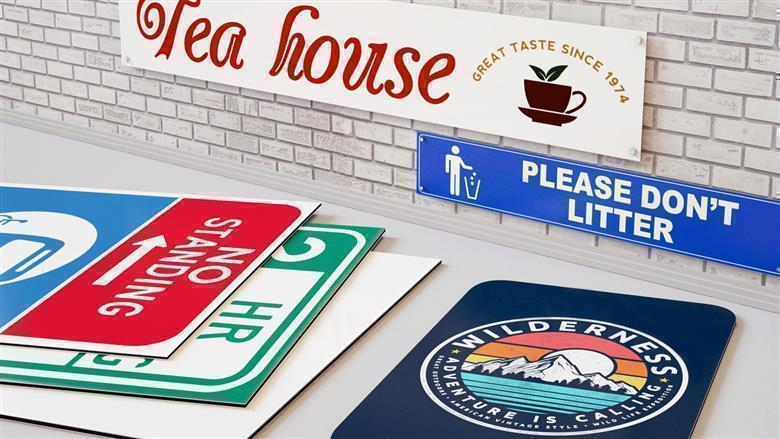 Aluminum Dibond Signs offer more finishes and color options than any other rigid sign panel on the market today. Aluminum Dibond is a lightweight yet strong material that is perfect for indoor or outdoor signage.
Here are the few points to know about Aluminum Dibond Signs
Aluminum Dibond signs are made up of a SOLID plastic core sandwiched between two aluminum sheets. This provides extra panel strength, making it ideal for high traffic areas.
The smooth surface is also perfect for printing and mounting, allowing you to create professional looking signs that will withstand the elements.
Aluminum Dibond signs are a type of sign that is made out of two layers of aluminum with a polyethylene core.
They are known for being very durable and long lasting, as they are completely rustproof, waterproof, rot-proof and chemically resistant. Aluminum Dibond signs can last for decades if they are placed indoors, making them a great investment for any business or individual.
These signs can be one-sided or two-sided
Easy to mount (mounting kits are
available)
1/8" thick panels are strong yet
lightweight with minimal flexibility
1/4" thick panels are highly rigid and sturdy
Promotional Aluminum Dibond Signs
Aluminum Dibond Signs are a great way to improve your business voice and generate more walk-ins. The laser-cut dibond signs are used under different weather conditions. Restaurants, beauty salons, construction sites - these are just some of the places and events that can boost their advertising with these elegant displays. Aluminum Dibond signs offer a wide range of possibilities when it comes to design and graphics. You can safely bet that dibond signs are the product to make it happen. To generate more walk-ins, think of new and unique designs and graphics for your dibond signs that'll make them catchier by restyling them.
At CreationStationPrinting, We offer high quality Aluminum Dibond Sign that is a High-Strength Sign Panel, Ideal for Large & Small, Interior & Exterior Signs. If you're looking for a reliable and trustworthy printing service, be sure to give us a call today. We'll be more than happy to discuss your specific needs and requirements, and see how we can help you create and properly install your next project.
So don't wait – Order Aluminum Dibond Signs today and start driving more business your way!
Contact us today to learn more about other Outdoor Signs for your Business!
Thanks for Reading!
Takeaway
At Creation Station Printing, we believe in providing our clients with everything they need under one roof. This means that we offer a wide range of services and products that cater to your specific needs and requirements.
We have a team of experts who are available to help you every step of the way. So if you're looking for quality printing services that will exceed your expectations this is the place to be.
Imagine, being able to go to your print provider, get every single item you might need from one place, and know that you are going to get the best price at all times.
Now that's loyalty. 
Check out Creation Station Printing today and ask them about their custom branded storefronts. This will start the conversation that could change the way your company does print forever.
Want to Learn More?
Check out more info about how we can build you your own custom branded business storefront and let us become your in house print shop today!