Car Magnets Signs - Get More Mileage Out of Your Marketing
Car magnets are a great way to get your business name and logo noticed by pedestrians and other drivers. Durable and weather-resistant, our magnetic car signs can help you make a strong first impression. Our car magnets are also easy to remove, so you can change them out as often as you like. Whether you're looking for a quick and easy way to advertise your business or you're looking for a more permanent solution, car magnets are a great option.
Car magnets are an easy and convenient way to turn any car into a moving advertisement.
They are also easily removable, so you can take them off when you want to go back to a more low-key look. Car magnets are a great way to create a consistent, branded look across multiple vehicles.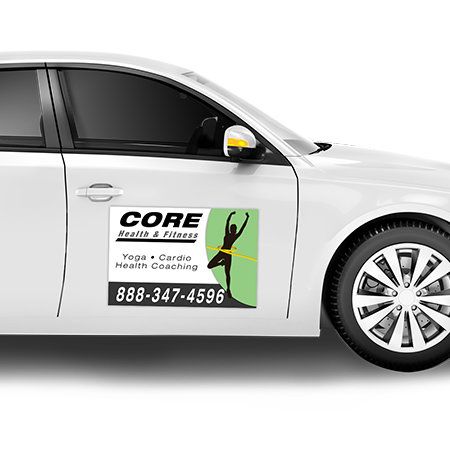 Car magnets are an excellent way to promote your business on the road. These signs are printed on a durable, UV-resistant magnetic stock that sticks firmly and seamlessly to any vehicle, giving it a custom-painted look.
Car magnets are an economical way of promoting any business, and they can be updated with new messaging as frequently as needed. They can also be removed from the vehicle when it is "off duty." Car magnets are a great way to get your business noticed, and they are an excellent marketing tool for any business.
Enhance Attention to Your Message With Car Magnets Sign:
Car magnets are a great way to get your message out there. They come in a variety of shapes and sizes, so you can choose the one that best fits your message or branding. Traditional shapes include rectangles/squares, ovals, and circles. Car magnets are also a great way to show support for a cause or campaign. Whether you're raising awareness for a charity or running for office, car magnets are a great way to get people talking. So make sure your message is loud and clear with car magnets from your favorite sign company.
Car magnets signs are durable and can last for years with proper care. When cleaning your vehicle, be sure to remove the magnet to clean debris from the vehicle surface. This will help extend the magnetic hold of the magnet and prevent any damage to the car sign. If you will not be using the car magnets for a long period, store them flat and away from direct sunlight. By following these simple tips, you can enjoy your car magnets for years to come.
Car Magnets are a great way to show your support for your favorite team, band, or business. They are 100% customizable and paint-safe so you can design your own magnet, stick them on a car or truck, peel them off, and reuse them again and again. With our world class printers you can rest assured your magnet will be fade resistant and will look great on your vehicle. Car Magnets are also a great way to promote your business. You can hand them out at trade shows or put them on company cars to get your name and logo out there.
If you're looking for an efficient and effective way to market your business, while also expressing your brand personality, consider investing in car magnets from CreationStationPrinting. Our car magnets are made of a heavy duty, thick magnet material that will withstand all weather conditions and repeated use. They're also incredibly easy to apply and remove, so you can change up your marketing message as often as you like. Plus, our car magnets are printed in full color, so your logo and branding will really pop against any vehicle color. Whether you have a fleet of cars or just one, car magnets from CreationStationPrinting are an affordable and effective marketing solution.
So if you're looking for a cheap and easy way to promote your business or show your support for your team, order Car Magnets today!
Check out some other Vehicle Signs like this one!
Thanks for Reading!
Takeaway
At Creation Station Printing, we believe in providing our clients with everything they need under one roof. This means that we offer a wide range of services and products that cater to your specific needs and requirements.
We have a team of experts who are available to help you every step of the way. So if you're looking for quality printing services that will exceed your expectations this is the place to be.
Imagine, being able to go to your print provider, get every single item you might need from one place, and know that you are going to get the best price at all times.
Now that's loyalty. 
Check out Creation Station Printing today and ask them about their custom branded storefronts. This will start the conversation that could change the way your company does print forever.
Want to Learn More?
Check out more info about how we can build you your own custom branded business storefront and let us become your in house print shop today!