Clear Plastic Business Cards – Ideal for Important Events And Conferences
Plastic Business Cards are the face of your professional life. In this modern age, where the world is going digital, stand out from the crowd with a premium plastic business card. Create a lasting impression with superior finished plastic cards. These cards are stylish, lightweight with round-edged corners. Unlike traditional paper cards, these premium plastic business cards offer optimum durability.
Plastic Business Cards are ideal for important events and conferences, or simply to promote your brand or company.
With versatile design options, you can create a unique card that reflects your personality and style.
Plastic Business Cards are the new standard for today's modern business world. They offer all of the same benefits of traditional paper cards, but with added durability and a more professional look. Plastic cards are also more flexible and waterproof than their paper counterparts, making them ideal for carrying in a wallet or purse.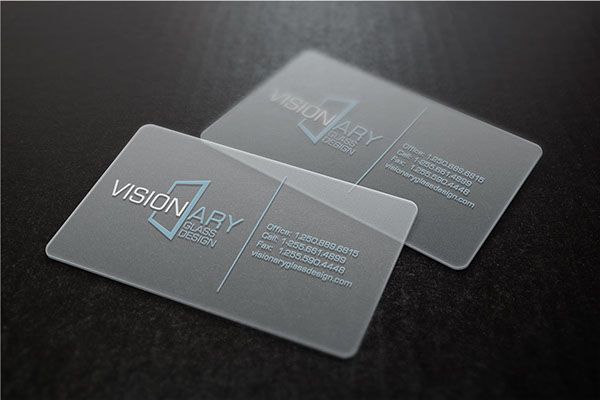 There are two main types of plastic Business cards:
Translucent and Full Color Business Cards
Translucent cards have a light and airy look that is perfect for many types of graphics and text.
Full color cards look more like traditional credit or bank cards and can be printed with any design imaginable.
No matter what type of business you have, plastic business cards are an essential tool for marketing your brand and building your customer base.
Make an impression with Plastic Business Cards
Plastic business cards are revolutionizing the way businesses advertise and swap contact information. With their contemporary look and feel, plastic business cards make a strong impression that is sure to be remembered. And with their durability, plastic business cards are also a more efficient and cost-effective way to exchange information. No longer will you have to worry about your business card tearing or bending in your wallet. Plastic business cards are stronger and more resilient, meaning you can use them again and again for years to come.
Plastic business cards are slowly but surely becoming more popular in the business world. And it's not hard to see why. They offer a durability and stability that efficiently brand a company's individuality and communication in new and thrilling ways. The utilization of color, combined with a mixture of clear and tinted formats, let for an extremely creative approach to a lot of dissimilar types of messaging, brand name and image building. Plastic business cards are also waterproof and tear-resistant, making them a great choice for businesses that operate in outdoor or harsh environments. Plus, they're just plain cool.
So if you're looking for a new way to make a lasting impression, look no further than plastic business cards.
We, at CreationStationPrinting, We offer premium Plastic business cards that are a popular choice for many businesses. They are durable, easy to print on, and have a wide range of customization options. Our premium plastic visiting cards come in a premium matte finish, making them ideal for photographs, images, and graphics with gradients. You can also customize our premium plastic visiting cards via QR codes, signature panels, and more. Whether you're looking for a stylish way to showcase your brand or wanting to create a more durable card, our premium plastic cards are a great option.
So don't wait any longer, order your Plastic business cards today!
Contact us today to learn more about our Business Cards like this one!
Thanks for Reading!
Takeaway
At Creation Station Printing, we believe in providing our clients with everything they need under one roof. This means that we offer a wide range of services and products that cater to your specific needs and requirements.
We have a team of experts who are available to help you every step of the way. So if you're looking for quality printing services that will exceed your expectations this is the place to be.
Imagine, being able to go to your print provider, get every single item you might need from one place, and know that you are going to get the best price at all times.
Now that's loyalty. 
Check out Creation Station Printing today and ask them about their custom branded storefronts. This will start the conversation that could change the way your company does print forever.
Want to Learn More?
Check out more info about how we can build you your own custom branded business storefront and let us become your in house print shop today!