Coroplast Signs for Your Business Advertising
Coroplast signs are a popular and affordable signage option for businesses!
Coroplast Signs are made of corrugated plastic, which makes them lightweight and easy to transport.
These signs are also two-sided printable, making them a versatile marketing tool.
They can be used indoors or outdoors, making them perfect for a variety of applications.
Coroplast sign is an affordable way to get your business noticed!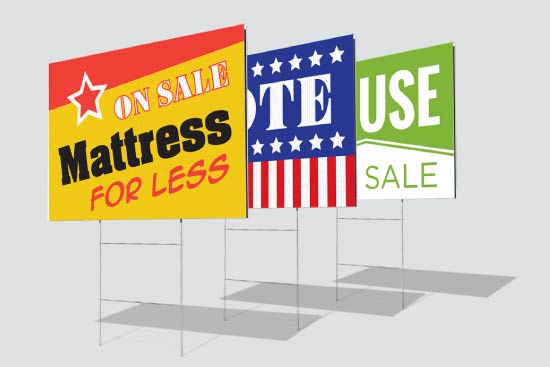 Coroplast signs are used for a wide variety of applications such as:
Lawn Yard Signage
Campaign Signage
Special events
Informational signs
Directional indicators
Menu boards
Temporary signage
Promotional advertisement
Trade Shows
Advantages of Plastic Coroplast Signs:
Coroplast signs are a versatile, affordable, and recyclable option for any business!
This sign is made of non-toxic polypropylene which is commonly recycled plastics among communities!
These signs are shockproof, waterproof, corrosion-resistant, and won't break down or tear easily.
Coroplast signs can last for multiple years in outdoor areas depending on sun exposure, temperature, orientation, and moisture. They will also withstand the cold months and rainy seasons.
Coroplast is a hollow fluted structure making it very lightweight and rigid.
The perpendicular flutes connecting front and back surfaces run the length of the material creating space and air. The result is a rigid material perfect for low-cost shipping!
Whether you need a sign for a real estate open house, political campaign, or as directional signage for an event, These signs offer a versatile solution that will meet your needs!
Coroplast Signs Printing:
At Creation Station Printing, we suggest the following tips to maximize the effectiveness of Coroplast signs.
Print on each side of the Coroplast to enhance promotional visibility.
Use limited color selection so as not to clutter the image on smaller signs.
Reduce word dependency; allow the customer to process the full meaning in seconds.
Design a compelling graphic that makes consumers want to keep looking.
Make sure the brand logo is clearly visible when applicable.
Utilize wire stakes or a sign frame to make the sign's twin walls clearly visible.
By following these suggestions, you can create an attention-grabbing sign that will effectively promote your business or event.
Coroplast signs are an excellent choice for temporary or semi-permanent outdoor signage. They are made from a lightweight yet durable material, and they are resistant to both water and weathering. For best results, these signs should be installed in a protected location where they will not be exposed to direct sunlight or extreme temperatures. With proper care, these type of signs can last for up to two years before needing to be replaced.
If you have any questions about Outdoor signs or would like to place an order, please Contact us today. We'll be happy to help you find the perfect signage solution for your business!
Thanks for Reading!
Takeaway
At Creation Station Printing, we believe in providing our clients with everything they need under one roof. This means that we offer a wide range of services and products that cater to your specific needs and requirements.
We have a team of experts who are available to help you every step of the way. So if you're looking for quality printing services that will exceed your expectations this is the place to be.
Imagine, being able to go to your print provider, get every single item you might need from one place, and know that you are going to get the best price at all times.
Now that's loyalty. 
Check out Creation Station Printing today and ask them about their custom branded storefronts. This will start the conversation that could change the way your company does print forever.
Want to Learn More?
Check out more info about how we can build you your own custom branded business storefront and let us become your in house print shop today!