Custom Mondo Flag – Perfect Option for Outdoor Events
Mondo Flag is the perfect way to make sure your company is seen. With a 13ft single-sided large rectangular banner flag, your brand will be high above the competition, even on windy days. The popular rectangle graphic style maximizes your brand message, making Mondo Flag the perfect solution for outside events, conferences, sporting events and more.
This Flag is built tough with an included water weighted base, so you can rest assured that your company will be seen. So when you need to make a big impression, go Mondo Flag.
Mondo Flag are perfect for a wide range of outdoor events. The telescopic aluminum flagpole is simple to set up and take down, and the plastic base can be filled with water for added stability. The Flag pole also comes with rings to hold your flag, making it easy to display.
If you're attending a conference, sporting event, or just looking to show your patriotism, the Flag is a great way to do it.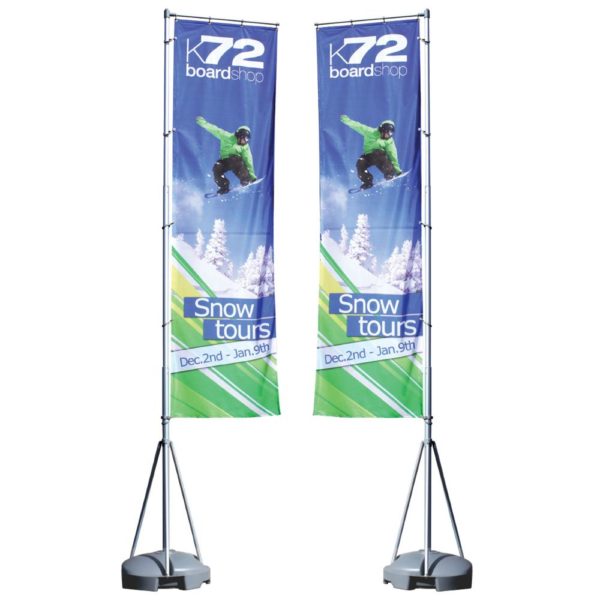 Mondo Flag is the perfect way to increase your audience potential by covering both sides of approach at your show. The banner fabric is a polyester-blend mesh that is colored by a heat transfer dye-sublimation process that fully saturates your graphic with rich colors. By covering both sides of approach, you'll be able to grab the attention of more people, which could lead to more customers or clients. Mondo Flag is an easy and effective way to make a big impact.
Mondo Flag is excited to introduce our newest product, the Mondo Flag Pole! Our telescopic aluminum flag pole is the perfect addition to any event, whether it is an outdoor conference, sporting event, or festival. The Mondo Flag is easy to install and comes with a plastic base that can be filled with water for extra stability. Plus, These Flags are available in both single and double-sided options, so you can choose the perfect design for your needs.
Mondo Flags are an excellent way to advertise your business.
They are light weight and easy to assemble, making them perfect for taking to events or trade shows. They are printed using dye-sublimation on a polyester fabric, ensuring a vibrant and long lasting print. Mondo Flags are hemmed all around and have a pole pocket on the stand side, making them easy to set up and take down. With their bright colors and easy setup, Mondo Flags are an ideal way to get your business noticed.
These Flags are a great way to get your message across in a big way. When you want to attract a lot of attention to your business or your message, go big with a Mondo Flag. Mondo Flags are large, eye-catching flags that are perfect for making a statement. They are also easy to set up and take down, so you can use them for temporary displays or permanent ones.
These Flags are available in a variety of sizes and styles, so you can find the perfect flag for your needs. Whether you want a simple, elegant flag for your business or a colorful, attention-grabbing flag for your next event, Mondo Flags has what you need.
At CreationStationPrinting, we understand the importance of flying a flag that is both eye-catching and high-quality. That's why we offer the widest range of flags available, along with the expertise to help you get the perfect design for your needs. Whether you're looking for a Mondo Flag, we'll make sure to find one that is just right for you.
In addition, we offer a variety of finishing options and applications to choose from, so you can be sure that your flag will look just the way you want it to.
So why wait? Just order your Mondo Flag today!
Here are some other flags like this one!
Thanks for Reading!
Takeaway
At Creation Station Printing, we believe in providing our clients with everything they need under one roof. This means that we offer a wide range of services and products that cater to your specific needs and requirements.
We have a team of experts who are available to help you every step of the way. So if you're looking for quality printing services that will exceed your expectations this is the place to be.
Imagine, being able to go to your print provider, get every single item you might need from one place, and know that you are going to get the best price at all times.
Now that's loyalty. 
Check out Creation Station Printing today and ask them about their custom branded storefronts. This will start the conversation that could change the way your company does print forever.
Want to Learn More?
Check out more info about how we can build you your own custom branded business storefront and let us become your in house print shop today!