Door Hangers Design and Printing Service
Door hangers are an often overlooked but extremely valuable marketing tool. For a relatively low cost, door hangers can be an efficient way to reach a large number of potential customers in a specific geographic area. Door hangers also have the advantage of being highly visible and difficult to ignore. When door hangers are used as part of a well-planned marketing campaign, they can be an extremely effective way to generate new business.
Door hangers are a great way to add a personal touch to your door, or to make a statement without having to say a word. With CreationStationPrinting, door hangers are easy to design and print, whether you're looking for a fun door hanger for your bedroom, an advertisement to pass out in your neighborhood, or even a Do Not Disturb sign for your hotel or bed & breakfast.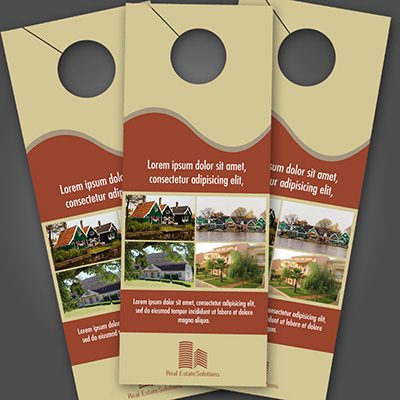 Door hangers are also a great way to print out your door at work, or to send it to a professional printer. Simply choose a template, customize it to perfection, and share it with the world. There's no limit to what you can do with door hangers from CreationStationPrinting!
How to Choose Door Hangers?
If you are looking for door hanger templates, we've got you covered. Our selection of door hanger templates is second to none, and we're constantly adding new designs to keep our collection fresh. Whether you're looking for a traditional door hanger or something more modern, we have thousands of professionally designed templates to choose from. And if you can't find exactly what you're looking for, our editing tools make it easy to create your own custom door hanger.
Custom it to make it your own
Custom door hangers are a great way to advertise your business or promote an event. But with so many door hanger templates available online, it can be tough to know where to start. Luckily, CreationStationPrinting makes it easy to design your own door hangers. Simply choose a template, customize the colors and fonts, and add your own images. You can even auto-apply your brand logo, colors, and fonts if you have a premium plan.
Designing a project that truly reflects your personality and style can be a challenge. But with our exclusive design assets, it's easy to add that extra flair that will make your project stand out. With just a few taps, you can add animated stickers or apply text animations to create short-form graphic that are sure to capture attention. And because we've taken care of all the boring technical stuff, you can focus on creating a message and style that are uniquely yours. Plus, by adding collaborators to your project, you can get even more creative minds involved in bringing your design to life. So don't settle for ordinary—with our design assets, it's easy to create something extraordinary.
At CreationStationPrinting, we understand that the power of creativity should never be underestimated. That's why we offer a wide range of professionally designed templates to help get your wheels spinning. Whether you're looking to create a door hanger from scratch or explore our existing designs, we're confident you'll find something to suit your needs.
What's more, our easy-to-use design tools make it quick and easy to customize your designs, ensuring they feel entirely authentic. For example, you can add photos, icons, logos, personalized fonts, and other elements to make them your own. Once you're happy with your creation, simply duplicate the design and resize it to create consistency across multiple assets. Plus, with our share function, it's easy to add collaborators, get approval, and hangs your door hanger out for your audience to enjoy - all within minutes!
So why not explore our Website today and order your Door hangers!
Contact us today to learn more about our other Marketing Materials like this one!
Thanks for Reading!
Takeaway
At Creation Station Printing, we believe in providing our clients with everything they need under one roof. This means that we offer a wide range of services and products that cater to your specific needs and requirements.
We have a team of experts who are available to help you every step of the way. So if you're looking for quality printing services that will exceed your expectations this is the place to be.
Imagine, being able to go to your print provider, get every single item you might need from one place, and know that you are going to get the best price at all times.
Now that's loyalty. 
Check out Creation Station Printing today and ask them about their custom branded storefronts. This will start the conversation that could change the way your company does print forever.
Want to Learn More?
Check out more info about how we can build you your own custom branded business storefront and let us become your in house print shop today!