Economy Feather Flag – Excellent Choice for Outdoor Events
Economy Feather Flag is an excellent choice for outdoor events. The flag's curved sleeve and free-flying edge allows it to grab attention without wrapping around the pole. Economy Feather Flag is also easy to assemble. The available hardware includes a ground stake to fit your pole set that stakes into soft ground.
The Economy Feather Flag is single sided only, and the back side shows the reverse of the print. This Flag is the perfect way to grab attention at any outdoor or indoor event. The flag's unique shape means it won't wrap around the pole, and the free-flying edge ensures that your message or logo will be visible from all angles.
Assembly is quick and easy, so you'll be ready to go in no time. Whether you're looking to promote your business or simply want to add a touch of personality to your next event, the Economy Feather Flag is the perfect choice.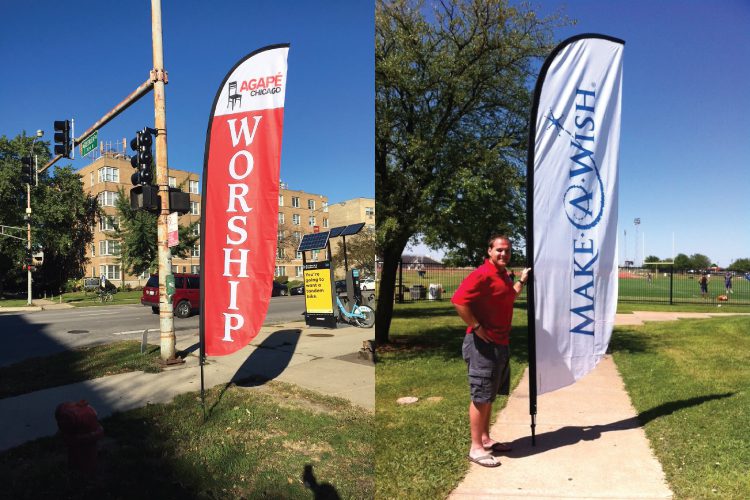 Economy Feather Flag is a great way to advertise your business! They are long-lasting with great color in all climates. Economy Feather Flags are a great temporary advertisement as they are easily assembled and torn down. Store them for yearly promotional advertising.
In the current climate, traditional advertising methods are no longer as effective as they once were. With more and more people working from home, there are fewer people out on the streets to see your banner. Economy feather flags are a great alternative to traditional banners. They are easy to set up and take down, and can be placed in a variety of locations to get maximum exposure.
Economy feather flag is also a cost-effective way to advertise, making them a great choice for businesses on a tight budget.
So if you're looking for a new way to get your business noticed, Economy Feather Flags is the way to go! These flags are a great way to trumpet to the world that your doors are now open for business! So grab yours today! It has been a hard year for business, but those sad times are coming to an end!
Your business is ready to announce a safe reopening! Customers have dwindled or haven't shown up all together, doors have closed, and businesses have gone under. But those sad times are coming to an end! Your business is ready to announce a safe reopening! What better way to announce your grand reopening than with our Economy feather flags? These durable advertising flags are a fun and exciting way to trumpet to the world that your doors are now open for business! So grab yours today!
Economy Feather Flags are an effective way to draw customers to your business. As they line a roadway, flap proudly next to a door or and stand clearly on a road corner, these modern custom banners are an effective way to show off your business, new product or promotion. The Econo feather flags stand on a pole and have a sleek curved edge with a free flying edge flap that whips neatly in the wind. Economy Feather Flags are made of high quality materials that require no maintenance other than an occasional hose down.
These light weight yet durable flags are portable and can be set up in minutes with the included ground stake. So, don't wait any longer, make Economy Feather Flags part of your marketing strategy today!
At CreationStationPrinting, we understand that designing a promotional flag can be a daunting task. There are so many things to consider, from the layout of the design to the colors and fonts that will be used. Fortunately, our team is here to help.
We have a wealth of experience in designing flags for all sorts of events and promotions, and we would be happy to share our knowledge with you.
We can work with you to create a custom design that perfectly reflects your brand identity and helps you to achieve your marketing goals. So if you're not sure where to start, Contact us or give us a call at: 512-430-1223. We would be more than happy to help you create the perfect Economy Feather Flags for your next event or promotion.
Here are some other products like this one!
Thanks for Reading!
Takeaway
At Creation Station Printing, we believe in providing our clients with everything they need under one roof. This means that we offer a wide range of services and products that cater to your specific needs and requirements.
We have a team of experts who are available to help you every step of the way. So if you're looking for quality printing services that will exceed your expectations this is the place to be.
Imagine, being able to go to your print provider, get every single item you might need from one place, and know that you are going to get the best price at all times.
Now that's loyalty. 
Check out Creation Station Printing today and ask them about their custom branded storefronts. This will start the conversation that could change the way your company does print forever.
Want to Learn More?
Check out more info about how we can build you your own custom branded business storefront and let us become your in house print shop today!