Economy Retractable Banner Stand To Display Banner at Trade Show
Looking for an attractive and affordable way to display your banners at trade shows, events or promotions? Look no further than the Economy Retractable Banner Stand! This stand is small and compact, making it easy to transport and set up. It's also made of durable aluminum, so it can withstand wear and tear. Plus, the banner itself pulls up and retracts down into the base, so you don't have to worry about it getting damaged.
Our Economy Retractable Banner Stand, with its classically simple design, is the perfect choice for displaying your company's information!
An economically-designed stand paired with a vibrant, full color banner printed singled sided on 13oz blockout vinyl makes this product a great choice to advertise your business and to showcase your work.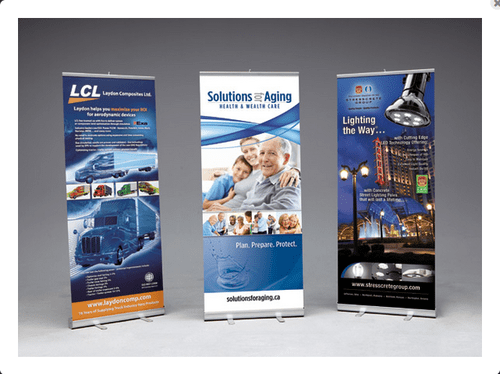 Retractable banner stands are easy to set up and take down, making them perfect for trade shows, conferences, or any other event where you want to make a big impression.
Order your Retractable Banner Stand today and start getting the word out about your business!
Don't forget, we also offer custom banner printing services to help you create the perfect Retractable banner stands for your needs.
Custom banner printing services!
Pull up and retract down into base!
Small and compact design!
Made of durable aluminum!
Attractive and affordable way to display banners!
Our economy retractable banner stand is one of the most versatile and economical ways to advertise your business! The sleek and simple design is perfect for displaying your company's information in a professional manner.
Creation Station Printing is your one-stop shop for all your sign and graphics printing needs. We offer both screen and digital printing services, and all of our materials are sold by the square inch so you can get exactly what you need in the size, shape, and quantity that you need it. We also offer next day production and 1-3 day shipping on many of our most popular products so you can get your signs or graphics fast. Whether you need yard signs, banners, business cards, posters, political signs, or anything else, CreationStationPrinting is here to help. So think CreationStationPrinting for all your sign and graphics needs!
Order your Economy Retractable Banner Stand today and start promoting your business in style!
Let us know how we can help you!
Takeaway
At Creation Station Printing, we believe in providing our clients with everything they need under one roof. This means that we offer a wide range of services and products that cater to your specific needs and requirements.
We have a team of experts who are available to help you every step of the way. So if you're looking for quality printing services that will exceed your expectations this is the place to be.
Imagine, being able to go to your print provider, get every single item you might need from one place, and know that you are going to get the best price at all times.
Now that's loyalty. 
Check out Creation Station Printing today and ask them about their custom branded storefronts. This will start the conversation that could change the way your company does print forever.
Want to Learn More?
Check out more info about how we can build you your own custom branded business storefront and let us become your in house print shop today!