Feather Convex Flags to advertise your logo and brand at your next show
Feather Convex Flags are a great way to get your message out there. With a convex bottom, the flag has a softer shape that allows for more surface area to be full color printed on. Made in Austin with tough, high-quality material, Feather Convex Flags are built to last. Whether you need flags for your small business, franchise, or corporation, Feather Convex Flag has your solution.
So fly your Feather Convex Flag with pride knowing that you're getting the best quality flag available.
Feather Convex Flags are one of the best ways to get your message out there. They are highly visible and can be seen from a long distance away. Feather Convex Flags are perfect for both indoor and outdoor events. This flag is perfect for advertising your logo or message.
It is available in a variety of hardware options including a heavy duty cross base or ground stake to fit your pole set. Feather Convex Flags are a great way to get your message across and make a lasting impression.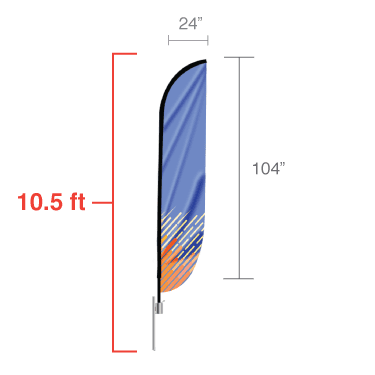 Feather convex flags offer an effective advertising solution for businesses, events or messages. Made of polyester material, they are digitally printed, scratch resistant and washable. These flags are also suitable for indoor or outdoor use where the elements are unpredictable.
The Benefits of a Feather Convex Flag:
Feather Convex Flags are a great option for anyone looking for a unique way to market their business. These flags have a few benefits that make them stand out from other marketing tools.
First, the design is smoother on the eyes and helps direct the eye upwards.
Feather Convex flags are durable, easy to set up and take down, and they can be used in a variety of locations
Compare the curved, flowing lines of a feather convex flag to the hard angles of a rectangular banner
The first directs the eye and doesn't require as many hard changes in direction.
Feather Convex Flags also come with two different base options. You can go with a spike base if you plan on using these flags outdoors in an area where you can drive the base into the ground.
On the other hand, for indoor or sidewalk use, you can select a scissor base. These bases come in light weight and heavy weight options.
With so many options and such an eye-catching design, Feather Convex Flags are a great choice for anyone looking to take their marketing to the next level.
At CreationStationPrinting, we are dedicated to providing our customers with the highest quality flags banner in Austin. We use only the highest quality materials in our flags, and our UV inks are highly fade resistant. Our stands are also very high quality and can withstand the weather and heavy use. Our flags are perfect for any event, including trade shows, conventions, and sporting events.
Order your Feather convex flags banner today!
Contact us now to learn more about our Banner services in Austin or give us a call at: 512-430-1223. We would be more than happy to help you!
Thanks for Reading!
Takeaway
At Creation Station Printing, we believe in providing our clients with everything they need under one roof. This means that we offer a wide range of services and products that cater to your specific needs and requirements.
We have a team of experts who are available to help you every step of the way. So if you're looking for quality printing services that will exceed your expectations this is the place to be.
Imagine, being able to go to your print provider, get every single item you might need from one place, and know that you are going to get the best price at all times.
Now that's loyalty. 
Check out Creation Station Printing today and ask them about their custom branded storefronts. This will start the conversation that could change the way your company does print forever.
Want to Learn More?
Check out more info about how we can build you your own custom branded business storefront and let us become your in house print shop today!