Flyers & Sell Sheets - Perfect Way to Market your Business
Flyers and sell sheets are an essential part of any business's sales and marketing strategy. A sell sheet is a single page that gives potential customers an overview of your business, products, or services.
Flyers are typically used to promote special events or promotions, but can also be used to generate leads or introduce new products or services.
The key to creating effective sell sheets and flyers is to focus on the benefits of your products or services, rather than simply listing features. What makes your business unique? Why should potential customers choose you over the competition? Answering these questions will help you create compelling content that will grab attention and generate interest in your business.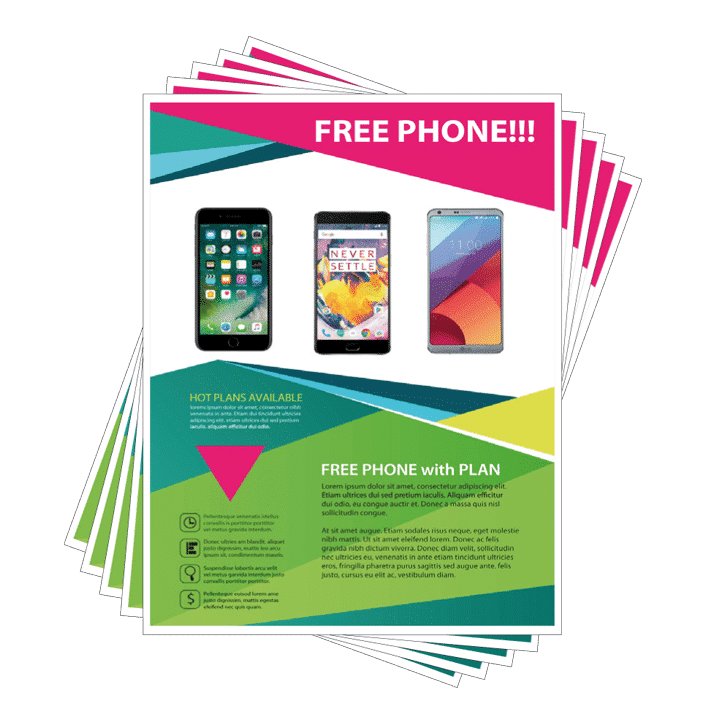 Flyers and sell sheets are an excellent way to market your business and its products or services. They are versatile and can be used in a variety of settings, from trade show booths to retail store shelves. However, in order to be effective, Flyers and sell sheets must be printed on high-quality paper.
This is where we come in. At Creation Station Printing, we use only the finest paper stock to produce Flyers and sell sheets that are sure to make a positive impression on your potential customers. So, when you're looking for a printer that can produce high-quality Flyers and sell sheets, look no further than Creation Station Printing!
Features:
Flyers and sell sheets are versatile marketing tools that can be used to promote products, special offers, and upcoming events!
Full-color printing on both sides offers twice the value, and each order is individually inspected with unrivaled quality control standards!
Flyers and sell sheets come with a UV coating or classy matte finish, and you can choose the size that best fits your budget and needs!
Print flyers and sell sheets on 70 lb. (uncoated), 80 lb. or 100 lb. economical paper stock or on 10 pt., 14 pt., or 16 pt. ultra-thick cardstock!
There are four coating options to choose from: uncoated, matte, gloss, and high-gloss UV. Same-day printing is available!
The major ways that you're going to use Flyers and sell sheets are going to be either:
Flyers and sell sheets are an excellent way to introduce your business to the area and build interest for your upcoming grand opening. By renting a mailing list and sending Flyers and sell sheets to your target audience, you can create the attention you need to make your grand opening a success. Customers who have an interest in services similar to what you offer will be impressed by your Flyers and sell sheets, and this will help create a great first impression of your business. Make sure to include all the vital information about your grand opening on your Flyers and sell sheets so that customers can easily find and attend your event. With proper planning and execution, Flyers and sell sheets are a guaranteed method to help make your grand opening festivities a successful!
Flyers and sell sheets are amazing tools for getting important information about your business to your customers in a concise, easy-to- digest format. Your customers will appreciate having a one-page reference guide that includes pricing, important dates, contact information, and other key details about your products and services. Flyers and sell sheets are also great for mailing to targeted mailing lists or handing out at your store or place of business. You'll be amazed at how informed your customers will be after using your flyer or sell sheet!
Let your business, cause, or event fall directly into human hands with flyers and brochures – Order your Flyers and sell sheets today!
Check Out some other products like this one HERE
Thanks for Reading!
Takeaway
At Creation Station Printing, we believe in providing our clients with everything they need under one roof. This means that we offer a wide range of services and products that cater to your specific needs and requirements.
We have a team of experts who are available to help you every step of the way. So if you're looking for quality printing services that will exceed your expectations this is the place to be.
Imagine, being able to go to your print provider, get every single item you might need from one place, and know that you are going to get the best price at all times.
Now that's loyalty. 
Check out Creation Station Printing today and ask them about their custom branded storefronts. This will start the conversation that could change the way your company does print forever.
Want to Learn More?
Check out more info about how we can build you your own custom branded business storefront and let us become your in house print shop today!