Folded Brochures – Effective Way To Display Business
Folded brochures, also known as pamphlets, are great handouts and sales pieces that allow businesses to quickly and effectively display their information. Choosing the right layout can be challenging, especially if this is your first time printing brochures.
The most important thing to keep in mind is that your brochure should be easy to read and understand. Try to use short blocks of text and clearly labeled sections. In addition, be sure to include plenty of white space to make your brochure look clean and professional.
If you're not sure where to start, there are many templates available online at CreationStationPrinting. With a little time and effort, you can create a brochure that will help your business stand out from the competition.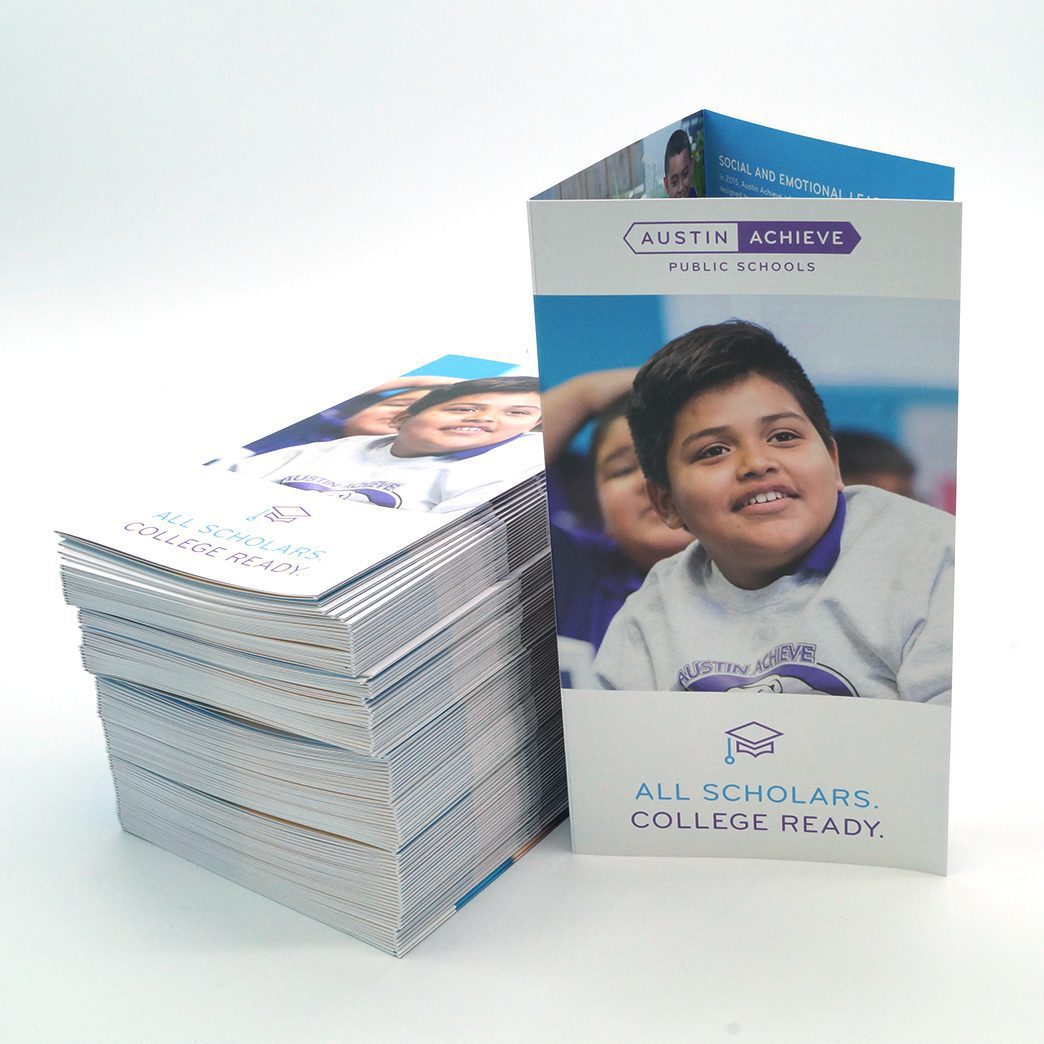 Folded brochures are a great way to showcase your products or services. They offer a simple and effective way to present information in an organized and professional manner. Plus, they can be customized with a variety of paper stocks, sizes, and finishing options to create a professional look!
Types of Folded Brochures:
With a large variety of folding options, we've included the most popular brochure folded.
The half fold option is one of the more common and simplest of the folds. It offers two equal sides, resulting in a four-page brochure. This option is excellent for those who want to show large images or include a group of pictures on either side without having the fold run through them. The half fold brochure is also known as a bi-fold or single fold. It is an economical way to present your information and can be mailed using standard envelope sizes. They are an eye-catching marketing tool that can help you reach new customers and grow your business!
Tri-Folded Brochure Layout
Tri-Folded brochures are a popular marketing tool because they are an effective way to showcase a business, promote a brand, and highlight products and services. The tri-fold brochure offers two folds which form three double-sided panels, resulting in a six-panel brochure. The standard size is the 8.5×11". Tri-folded brochures are easy to carry and hand out, and they take up less counter space. When designing a tri-fold brochure, it is important to keep in mind that each panel should have a specific purpose. The cover should grab attention and make a good first impression, the inside panels should provide detailed information about the products or services being promoted, and the back panel should include a call to action. By following these simple tips, you can create an effective tri-fold brochure that will help to grow your business.
The Gate fold brochure is an excellent choice when you want to create a dramatic opening. It instantly grabs the reader's attention and offers a wide opening. When opened or closed, the left and right sides fold inward toward each other, meeting in the middle. This type of fold makes eight total panels, where the two sides are the same size and the middle panels are slightly more prominent. The gate fold brochure is an excellent way to showcase your product or service in a unique and eye-catching way.
The Z-fold brochure, also known as the accordion fold, is a type of brochure that features three panels and six pages. This fold is a great alternative to the traditional tri-fold, and it can be used for a variety of purposes, including direct mail marketing. The main advantage of the Z-fold is that it allows for more space to include information and visuals. As a result, this fold is ideal for businesses that want to include a lot of content in their brochures. Another benefit of the Z-fold is that it can be mailed in a standard envelope, making it a cost-effective option for businesses that plan on using direct mail as part of their marketing strategy.
Folded Brochures are an effective and unique way of providing business information about a particular item, product, or service. They are easy to distribute and can be mailed, handed out, or placed in brochure racks. Folded Brochures are also a great way to showcase products and services with photos and text. But folding options do not stop with the ones highlighted above. CreationStationPrinting offers a Folded Brochures for you, so no matter how they are going to be used, we have a fold for you!
If you have any questions about how to fold a brochure, feel free to Contact us.
Check Out some other products like this one HERE
Thanks for Reading!
Takeaway
At Creation Station Printing, we believe in providing our clients with everything they need under one roof. This means that we offer a wide range of services and products that cater to your specific needs and requirements.
We have a team of experts who are available to help you every step of the way. So if you're looking for quality printing services that will exceed your expectations this is the place to be.
Imagine, being able to go to your print provider, get every single item you might need from one place, and know that you are going to get the best price at all times.
Now that's loyalty. 
Check out Creation Station Printing today and ask them about their custom branded storefronts. This will start the conversation that could change the way your company does print forever.
Want to Learn More?
Check out more info about how we can build you your own custom branded business storefront and let us become your in house print shop today!