Hanging ID Badges – Perfect Way to Display Your ID Card
Hanging ID badges are a great way to display your ID card while also keeping it safe. Whether you're worried about losing your card or simply want to avoid wear and tear, a badge holder is a good investment. And, since most organizations require that ID cards be worn in a visible manner, it's important to choose badge holders that are both functional and stylish.
There are many different options available on the market, so you're sure to find something that suits your needs. With a little bit of shopping around, you can find the perfect badge holder to help you keep your ID card safe and sound.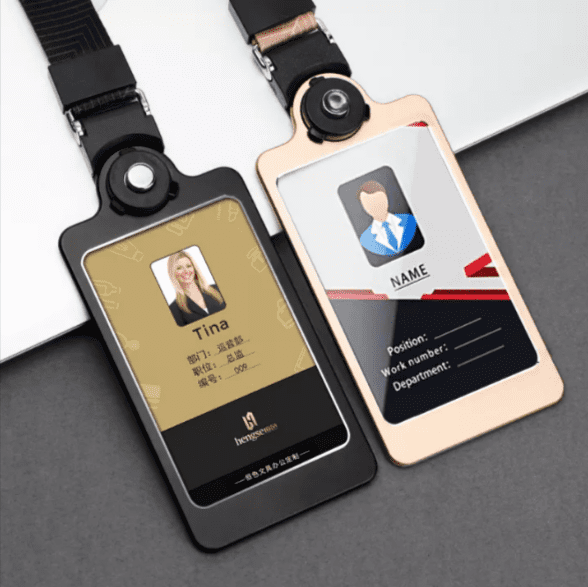 Hanging ID badges are very popular for those who need to have their badge visible at all times. These are perfect for security Badges, as well as name tags for conventions or any other large gathering where it is important for everyone to be able to see everyone else's name. Hanging ID badges come in a variety of materials, including clear plastic, so that you can choose the one that best suits your needs.
Hanging ID badges are an essential part of maintaining security in any setting!
Hanging ID badges are commonly seen in a variety of settings from office buildings to schools. They provide a quick and easy way to display identification. The most popular type of hanging ID badge is the lanyard. Lanyards are made from a variety of materials, including nylon and bamboo. They typically feature a breakaway clasp that prevents injury in the event that the wearer becomes entangled. Some lanyards even include additional features such as cell phone and pen holders.
Another common way to wear your badge is with a badge clip. The vinyl strap is placed through the hole in the holder of badge and snapped in. The metal clip attached to the holder of badge can be clipped on to clothing. Hanging ID badges are convenient because they are easy to put on and take off. Badge clips are also less likely to damage clothing than pin or suction cup attachments. Hanging ID badges are available in a variety of colors and styles to match any outfit.
Hanging ID badges are one of the most popular choices for badge holders.
Hanging ID badges are perfect for companies that need to keep their employees' IDs close at hand, as well as for schools that want to protect their students' identities. Hanging badge holders come in a variety of styles and colors, so you can find one that best suits your needs. If you are looking for a more secure option, there are also badge holders that come with a lanyard or clip. This way, you can be sure that your badge will stay close to your body and will not be lost or stolen. No matter what your need, there is definitely a badge holder out there that will meet them.
At CreationStationPrinting, you have access for best quality hanging id badge, ID badge lanyards, name badge holders, and much more. Take a look at them, check the specifications, and Order your Hanging ID Badges today with free Shipping!
Check out HERE some other products like this one!
Thanks for Reading!
Takeaway
At Creation Station Printing, we believe in providing our clients with everything they need under one roof. This means that we offer a wide range of services and products that cater to your specific needs and requirements.
We have a team of experts who are available to help you every step of the way. So if you're looking for quality printing services that will exceed your expectations this is the place to be.
Imagine, being able to go to your print provider, get every single item you might need from one place, and know that you are going to get the best price at all times.
Now that's loyalty. 
Check out Creation Station Printing today and ask them about their custom branded storefronts. This will start the conversation that could change the way your company does print forever.
Want to Learn More?
Check out more info about how we can build you your own custom branded business storefront and let us become your in house print shop today!