Painted Edge Business Cards – Stylish Way to Show Your Brand
Painted edge business cards are the perfect way to show your brand's fun and stylish side while remaining professional. These cards' painted edges deliver a bold look that exudes confidence, making a lasting impression on customers. Painted edge business cards are available in a variety of colors and styles, so you can find the perfect one to match your brand. Whether you want a sleek and modern look or a playful and colorful design, painted edge business cards are a great way to stand out from the competition. So break away from boring designs and make your brand memorable with painted edge business cards.
Painted edge business cards are a unique and eye-catching way to promote your business.
By adding a bold color to the sides of your card, you can make it stand out from the sea of white cards that people are used to seeing. The extra thickness of the paper also adds a touch of luxury, making your card feel more substantial in the hands of potential customers. Whether you choose to go with a traditional black or white card stock or something more unique, painted edge business cards are sure to make a lasting impression.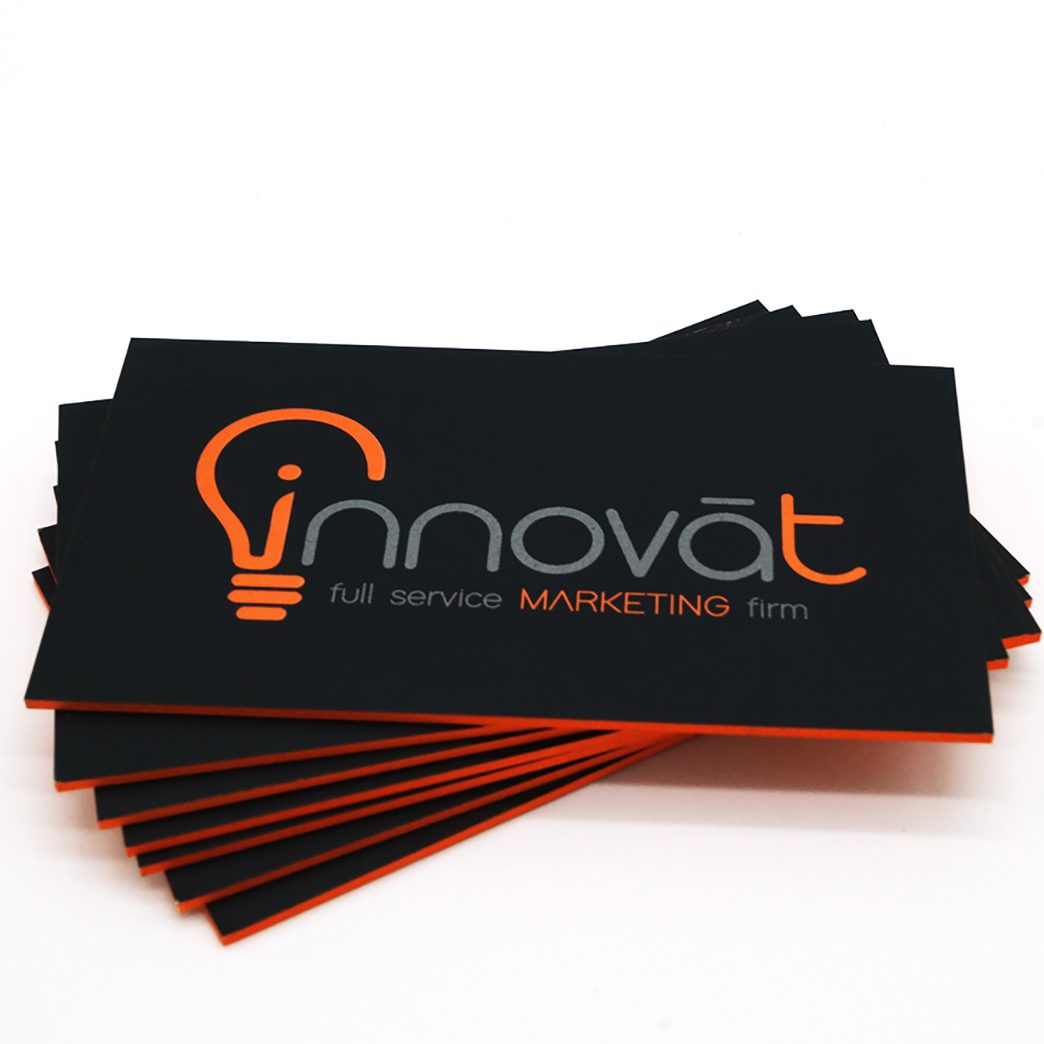 Painted Edge Business Cards Features:
Ultra thick 32pt cardstock!
Uncoated paper stock!
16 colors to choose from for the painted edge!
Full color printing!
Painted Edge Business Cards are a great way to make a lasting impression and turn heads. These cards are popular with designers, photographers, boutiques, and other professionals looking to make a lasting impression. The cards are printed on high quality card stock and have razor-sharp edges that are painted with a color of your choice. You can choose from a variety of colors, including black, white, blue, red, green, and more.
Painted Edge Business Cards are a great way to make your business stand out from the competition!
Painted edge business cards are thick, luxurious, and durable cards that can be handed out to every prospect you meet or included in a retail or shipping package. Printed on an uncoated 32 pt. cardstock, these cards are thicker than traditional business cards and have a noticeable heft to them. Painted edge cards are also very durable, meaning they won't bend or tear easily. Whether you're looking to make a big impression at your next networking event or you simply want to hand out high-quality cards to customers, painted edge business cards are a great option.
If you're looking for an affordable and easy way to create Painted Edge Business Cards, CreationStationPrinting is the perfect solution. We offer a variety of business card templates that are easy to manage and customize, so you can create the perfect card for your business. With our online design tool, you can add your own logo, images, and text to create a unique card that will convey the right message to your customers. You can also choose from a variety of paper types and finishes to make your cards truly stand out. Plus, our low-cost printing options make it easy to get the cards you need without breaking the bank.
So why wait? Order your Painted Edge Business Cards today!
If you need advice or assistance with your order, please call us at: 512-430-1223 or Browse our website at: https://creationstationprinting.com/
HERE are some other Premium Business Cards like this one!
Thanks for Reading!
Takeaway
At Creation Station Printing, we believe in providing our clients with everything they need under one roof. This means that we offer a wide range of services and products that cater to your specific needs and requirements.
We have a team of experts who are available to help you every step of the way. So if you're looking for quality printing services that will exceed your expectations this is the place to be.
Imagine, being able to go to your print provider, get every single item you might need from one place, and know that you are going to get the best price at all times.
Now that's loyalty. 
Check out Creation Station Printing today and ask them about their custom branded storefronts. This will start the conversation that could change the way your company does print forever.
Want to Learn More?
Check out more info about how we can build you your own custom branded business storefront and let us become your in house print shop today!