Premium Retractable Banner Stands Can Turn Products into Brands
Every business looking to make a progress and to achieve the desired results they do not leave any stone unturned. In fact they go beyond limits to encourage and advertise their products through different mediums of advertising. Besides daily newspaper and electronic modes, the advertising agencies indulge in creating the best banners for their products and events. Premium Retractable banner stands are easy to make and quite popular among businesses and advertising agencies for their low cost maintenance.
Premium Retractable banner stands are easy to make and demand low cost maintenance. Hence, they are quite a hit with companies as well as advertising Agencies!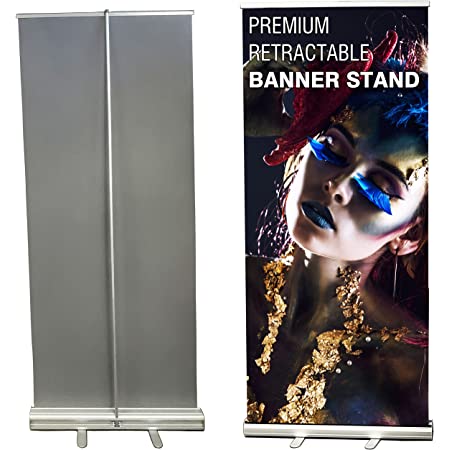 Premium Retractable Banner stands typically consist of a base, pole, and graphic panel that can be pulled up or down as needed. The graphic panel is usually made from vinyl or fabric, and the base is typically made from metal or plastic.
Why Choose Premium Retractable Banner Stands:
Retractable banner stands are one of the most popular and effective ways to promote your product.
They are eye-catching and convey the innovative ideas and views of your company in a concise and impactful way.
Retractable banner stands are easy to set up and take down, making them ideal for trade shows, conventions, and other events.
They are also lightweight and portable, making them easy to transport from one event to another.
In addition, retractable banner stands make it easy to change the graphic display, so you can easily update your messaging to reflect changes in your product or company.
Retractable banner stands are an affordable marketing tool that can help you reach a wide audience with your marketing message.
As any advertiser knows, choosing the right promotional materials is essential for getting the word out about your product or service. With so many options available on the market, it can be difficult to know where to start. Banner stands are a popular and effective choice for many businesses. They are easy to set up and take down, and they come in a variety of sizes and styles to suit your needs.
Premium Retractable banner Stands are a great option for businesses that need to transport their banners frequently. They are also ideal for use in high-traffic areas, as they can be easily retracted when not in use.
Banner accessories such as extension poles and carrying cases make it easy to transport your banner stand from one location to another. With so many benefits, it's no wonder banner stands are a popular choice for businesses of all sizes.
At Creation Station Printing, We offer Retractable banner stands that are portable, easy to set-up, and eye catching. Great for indoor and outdoor use, you can display them anywhere. And the best part? Our Premium Retractable Banner Stand comes with a carrying case, so you can easily take it with you on the go!
Why settle for a boring old sign when you can make a statement with our Retractable Banner Stand? Order yours Premium Retractable Banner Stands today!
Contact us today to know more about our other Outdoor Sings!
Thanks for Reading!
Takeaway
At Creation Station Printing, we believe in providing our clients with everything they need under one roof. This means that we offer a wide range of services and products that cater to your specific needs and requirements.
We have a team of experts who are available to help you every step of the way. So if you're looking for quality printing services that will exceed your expectations this is the place to be.
Imagine, being able to go to your print provider, get every single item you might need from one place, and know that you are going to get the best price at all times.
Now that's loyalty. 
Check out Creation Station Printing today and ask them about their custom branded storefronts. This will start the conversation that could change the way your company does print forever.
Want to Learn More?
Check out more info about how we can build you your own custom branded business storefront and let us become your in house print shop today!