Rectangle Flag – To Draw Attention to your Business
Rectangle flag, or rectangle flag banners, are advertising flags in the shape of a rectangle. Because of their size, durability, and portability they are perfect for indoor and outdoor signage. Rectangle flags can be used to promote sales, new products, or special events. They are also an effective way to draw attention to your business or organization.
Rectangle flag banners are easy to set up and take down, making them a convenient and cost-effective solution for your advertising needs.
Rectangle flags are a great choice for businesses who want to display a large amount of information. The extra surface area allows businesses to include more text or logos, making them an ideal choice for promoting sales or new products.
Rectangle flags are also very versatile - they can be hung from a flagpole, displayed on a wall, or even placed on a tabletop. No matter how they're used, rectangle flags are sure to grab attention and get your message across.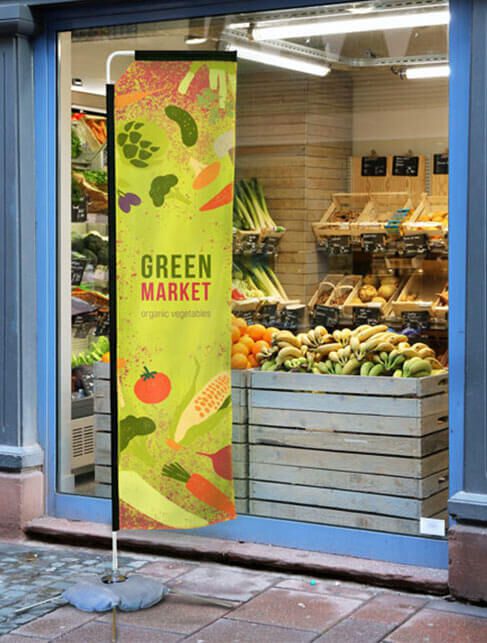 Rectangle flag is an eye-catching and cost-effective way to advertise your business. Whether you're promoting a sale, grand opening, or simply letting customers know that your shop is open, these flags are an ideal solution. Rectangle flags are also suitable for both indoors and outdoors, making them a versatile marketing tool.
Rectangle flags are great for displaying large amounts of information, in comparison to feather and tear drop flags. Because of their size, durability, and portability, they are perfect for indoor and outdoor signage. Rectangle flags can be made from a variety of materials, including polyester, nylon, and cotton. They are also available in a variety of colors and designs. Rectangle flags are typically attached to a flagpole with grommets or hooks.
They can also be hung from a wall or ceiling. Rectangle flags are an affordable way to promote your brand or business. They are also a great way to show support for a cause or team. In addition to presenting messages, flags also give your business an identity. From a marketing perspective, flags are successful in drawing customer attention to your business.
When used effectively, they can help to increase foot traffic and boost sales. Thanks to their versatility and affordability, rectangle flags are a great way to promote your business and make it more visible to potential customers.
Rectangle flag offers a number of advantages over other types of advertising banner flags.
First and foremost, you get a much larger printing surface. This allows you to display more text, logos, and color to help grab your audience's attention.
Additionally, rectangle flags are typically made from a sturdier material, which means they will last longer and withstand more wear and tear.
Rectangle flags are also easier to set up and take down than other types of flags, which makes them a good option for businesses that want to change their advertising messages frequently.
Overall, rectangle flags offer an ideal solution for businesses that want to create eye-catching displays that will stand up to repeated use.
At CreationStationPrinting, we use only the best quality materials to make our flags banner. Our flags are printed using a direct dye sublimation printing process, which means the ink goes through the fabric to create an eye popping display. The rectangle flags are printed on a lightweight fabric, which makes them easy to carry and hang. The rectangular shaped flags provide a large area to print your products, services or events. To make them eye catching and highly visible, we use vibrant colors that will grab attention. Our flags are also double-sided so that they can be seen from both sides. We're confident in the quality of our flags and offer a money-back guarantee if you're not satisfied.
Order your custom rectangle flag today!
Here are some other flags like this one!
Thanks for Reading!
Takeaway
At Creation Station Printing, we believe in providing our clients with everything they need under one roof. This means that we offer a wide range of services and products that cater to your specific needs and requirements.
We have a team of experts who are available to help you every step of the way. So if you're looking for quality printing services that will exceed your expectations this is the place to be.
Imagine, being able to go to your print provider, get every single item you might need from one place, and know that you are going to get the best price at all times.
Now that's loyalty. 
Check out Creation Station Printing today and ask them about their custom branded storefronts. This will start the conversation that could change the way your company does print forever.
Want to Learn More?
Check out more info about how we can build you your own custom branded business storefront and let us become your in house print shop today!