Stretch Table Throw - Cost effective way to show your company's presentation
Stretch Table Throw are an easy and cost effective way to show your company's presentation at job fairs, hotel events, conferences and trade shows. Whether it is to promote your product or to emphasize on your brand image, this table cover will help you to stand out in the crowd. The Stretch Table Throw is made of a stretch fabric that fits snugly over a 6 foot or 8 foot table.
The fabric is wrinkle resistant and can be machine washed for easy care. The Stretch Table Throw is printed with your full color logo or design on one side. This versatile table cover can be used as a fitted tablecloth or draped over the front and sides of the table for a more finished look.
Stretch table throw is an optimal choice for hospitality use or trade shows for their Stretch fabric helps to remove the wrinkles and provides a clean look for your exhibit. You can dress up your table in seconds with a custom stretch table cover.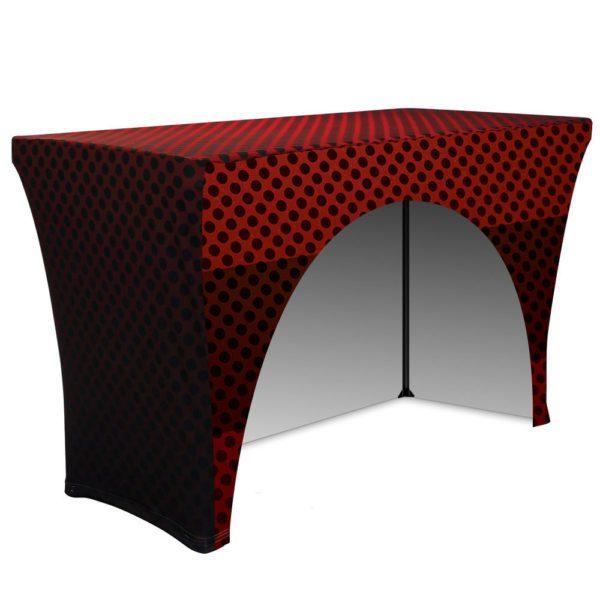 Stretch Table Throw is designed in a way that without clips or pins, it can comfortably fit your table. You need to simply stretch the cover over the table and slip the feet into the pockets of the tablecloth, and your table is ready to use. Stretchable and flexible to fit different sizes of tables, Stretch Table Throws provide a clean and elegant look for any special event or occasion.
Whether you are setting up for a wedding, anniversary party, family reunion, church function, or business meeting, our Stretch Table Covers will give your tables a finished look that will impress your guests.
Custom made stretch table covers help you to make a great first impression with your design, colors, brand or logo.
If you are looking for a way to make your booth stand out at your next convention or trade show then look no further than the Stretch Table Throw! This unique table cover is made of a lightweight, form-fitting fabric that stretches to fit over any standard six-foot table. The stretch fabric provides a sleek, wrinkle-free look that is sure to turn heads. And best of all, the Stretch Table Throw can be customized with your logo or message to ensure that your brand gets maximum visibility. So make sure to add a Stretch Table Throw to your exhibit today!
CreationStationPrinting is dedicated to providing high quality printing services in Austin. We use digital printing to ensure accuracy and perfect detailing in every print job. Our Stretch Table Covers are available in three different sizes, so you can find the perfect fit for your display needs. And our team is always ready to provide efficient and friendly service.
So please Contact us or call us 512-430-1223 today and let us help you create a perfect Stretch Table Throw in Austin!
Here are some other products like this one!
Thanks for Reading!
Takeaway
At Creation Station Printing, we believe in providing our clients with everything they need under one roof. This means that we offer a wide range of services and products that cater to your specific needs and requirements.
We have a team of experts who are available to help you every step of the way. So if you're looking for quality printing services that will exceed your expectations this is the place to be.
Imagine, being able to go to your print provider, get every single item you might need from one place, and know that you are going to get the best price at all times.
Now that's loyalty. 
Check out Creation Station Printing today and ask them about their custom branded storefronts. This will start the conversation that could change the way your company does print forever.
Want to Learn More?
Check out more info about how we can build you your own custom branded business storefront and let us become your in house print shop today!