Tabletop Display – Excellent Way to Showcase Your Company
Tabletop displays are an excellent way to showcase your company's products or services in a compact space. They are lightweight and easy to transport, and can be set up quickly and easily. Tabletop displays can be used as the focal point of your trade show booth, or as an accent or extension of a larger display. They provide plenty of room for advertising and/or instructions, and can be customized to meet your specific needs.
Tabletop displays are an affordable, versatile, and effective way to promote your business at trade shows and other events. Contact us today to learn more about our tabletop display options.
Tabletop displays are a great way to showcase your products or message in a simple and cost-effective way. Whether you exhibit at career fairs, chamber events or tradeshows, tabletop displays make set-up quick and easy.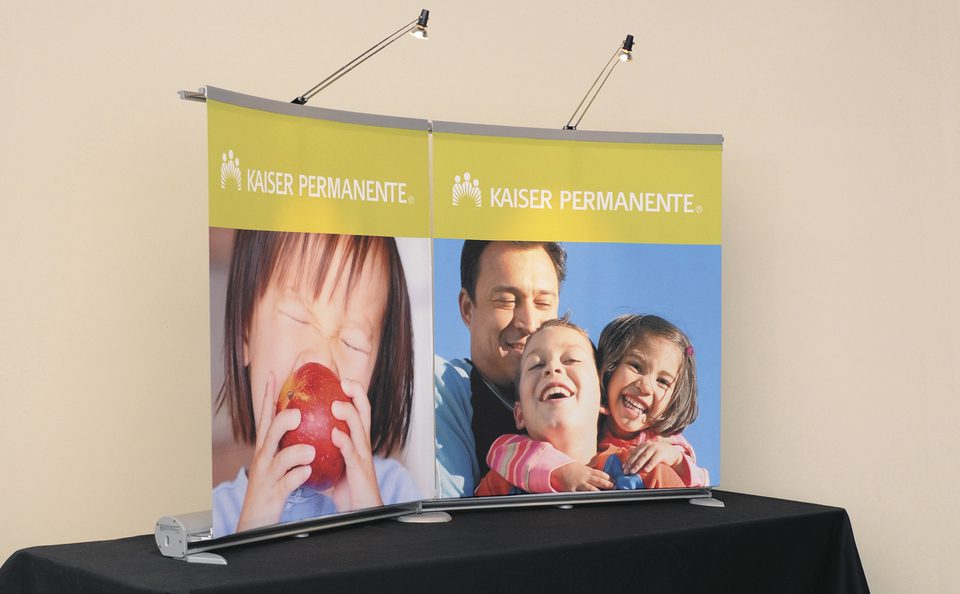 Tabletop displays are also lightweight and easy to transport, making them a great choice for busy exhibitors on the go. Plus, our cutting-edge designs will help you stand out from the crowd and make a lasting impression on your customers.
If you're looking for an easy and affordable way to showcase your products or message, Tabletop Display is the answer!
Tabletop displays are lightweight, highly portable and ideal for adding "WOW" factor to any 4ft, 6ft or 8ft long standard table display. These displays come in many different styles, so you can find one that fits your brand perfectly. Tabletop displays are easy to set up and take down, so you can take them with you to trade shows, conventions, and other events. Plus, they're great for small spaces because they don't take up a lot of room. Tabletop displays are an ideal way to make a big impact without spending a lot of money.
Tabletop displays are a simple yet powerful way to highlight your services or products, or display your message in the most cost effective manner. Tabletop displays are more inexpensive than modular displays and standing displays, and they can be rented or purchased from trade exhibit supply services. Tabletops are also lighter weight and more portable, making them ideal for businesses that are just starting out or that need to be able to move their displays around easily. Tabletop displays can be used in a variety of settings, including trade shows, conventions, and retail locations.
In the world of marketing and trade shows, first impressions are everything. That's why it's so important to have a well-designed exhibit that is both eye-catching and informative. Tabletop exhibits are a great option for businesses that want to make a big impact without breaking the bank. These displays are much smaller in size, require less space than all-out booths, and thereby use a lesser amount of material. Whether you're attending a large trade show or a small local event, tabletop exhibits are a great way to showcase your business in a professional and memorable way.
CreationStationPrinting is your one stop solution when it comes to finding the right tabletop display for your business. We offer a wide variety of displays that are sure to make your company and message stand out. Each display is designed to fit the standard six-or eight-foot table sizes available at trade shows, so you'll never have to worry about being shoehorned into a space that's too small.
Plus, our displays are easy to set up and take down, so you can focus on what's important - impressing your potential customers. So check out our selection today and find the perfect display for your next trade show or event! You won't be disappointed.
Thanks for Reading!
Takeaway
At Creation Station Printing, we believe in providing our clients with everything they need under one roof. This means that we offer a wide range of services and products that cater to your specific needs and requirements.
We have a team of experts who are available to help you every step of the way. So if you're looking for quality printing services that will exceed your expectations this is the place to be.
Imagine, being able to go to your print provider, get every single item you might need from one place, and know that you are going to get the best price at all times.
Now that's loyalty. 
Check out Creation Station Printing today and ask them about their custom branded storefronts. This will start the conversation that could change the way your company does print forever.
Want to Learn More?
Check out more info about how we can build you your own custom branded business storefront and let us become your in house print shop today!