Teardrop Flags – Effective Way to Promote your Business
Teardrop flags are a type of advertising flag. They are large teardrop-shaped flags with any custom design printed on them using a dye sublimation process. Teardrop flags are attached to a lightweight aluminum and fiberglass flagpole and are either stuck into the ground or placed on some type of flag stand. This flagpole is bendable, keeping the teardrop flag taut with and without wind.
Teardrop flags are often used as promotional tools for businesses because they are eye-catching and easily readable from a distance. Teardrop flags are also easy to set up and take down, which makes them ideal for trade shows and other events where space is limited.
If you're looking for an effective way to promote your business, teardrop flags are a great option.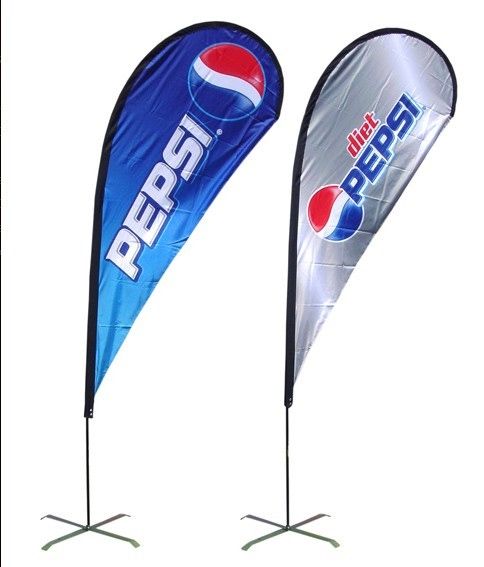 Teardrop flag banners are a great way to advertise your business. They are eye-catching and can help draw the attention of prospective customers and other passersby. Teardrop flag banners are easy to use and can be placed in front of your store or business. They are also effective in advertising your business.
Teardrop flag banners are a great way to promote your business and attract new customers. Thanks for considering using a teardrop flag banner to advertise your business. We appreciate your interest and look forward to helping you grow your business.
Teardrop flags are a type of flag that is shaped like a teardrop, and they are perfect for drawing attention to your business, product, promotion, or location. Teardrop flags are made of 110gm polyester material, which is very durable and weather resistant – making it great for outdoor use. Teardrop flags are also available in a variety of colors, so you can choose the perfect color for your business or event.
Outdoor advertising is one of the most popular methods of advertising, and it can be extremely effective if done correctly. However, outdoor advertising is not without its challenges. One of the biggest challenges is to create ads that are both attractive and clear. Attractive outdoor ads are more likely to catch people's attention, but if they are not clear, people will quickly lose interest. This can be a difficult balance to strike, but it is essential for effective outdoor advertising.
Another challenge is to make sure that the ads are placed in strategic locations. Advertisers need to consider the foot traffic in an area and make sure that their ads are placed where they will be seen by as many people as possible. With careful planning and execution, outdoor advertising can be a very successful way to reach potential customers.
At CreationStationPrinting, we are excited to offer our new Teardrop Flags for both inside and outside advertising. These flags are tall and light weight, making them perfect for any kind of weather. They provide a lot of exposure, which will help gather people around your advertisement. We are confident that our Teardrop Flag will be a valuable addition to your advertising campaign.
Contact us today to learn more about other Flags like this one and how it can help you achieve your marketing goals.
Thanks for Reading!
Takeaway
At Creation Station Printing, we believe in providing our clients with everything they need under one roof. This means that we offer a wide range of services and products that cater to your specific needs and requirements.
We have a team of experts who are available to help you every step of the way. So if you're looking for quality printing services that will exceed your expectations this is the place to be.
Imagine, being able to go to your print provider, get every single item you might need from one place, and know that you are going to get the best price at all times.
Now that's loyalty. 
Check out Creation Station Printing today and ask them about their custom branded storefronts. This will start the conversation that could change the way your company does print forever.
Want to Learn More?
Check out more info about how we can build you your own custom branded business storefront and let us become your in house print shop today!