Window Perforation – Efficient Way to Improve Security Inside
Window perforation is a great way to improve security while also getting advertising out there. It works by having low adhesive backing on the film with small evenly spaced holes. This allows for full visibility when looking out the window, but people on the outside cannot see inside. Window perforation can be used on either the interior or exterior of a window depending on weather conditions. It is an easy and efficient way to improve security while also letting people know what is going on inside.
Window perforation is a fantastic option for those who want to be able to see out, while others can't see in. This type of film is perfect for cars, as it allows you to cover every window while still maintaining perfect visibility. Additionally, your car won't be damaged after you remove the film, thanks to the low adhesive level.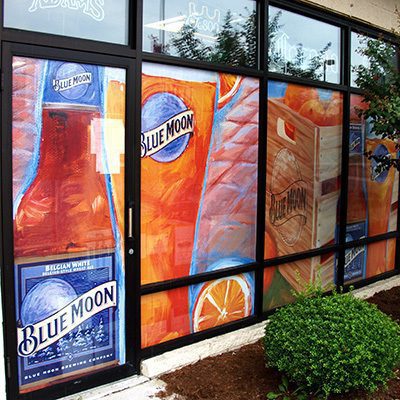 Window perforation is also an excellent option for advertising. This is because it allows you to create eye-catching designs that will stand out, while also protecting your car from UV rays. Window perforation is a versatile and affordable solution for those who want to make a statement with their car windows.
Window perforation is best for Advertising
Window perforation is one of the most durable window graphics options available on the market. It is custom made to fit your window size and can be printed with any design, colors, or messaging you need. Window perforation allows you to still see out of the window while driving, but from the outside, it appears as if your entire window is covered in advertisements. This makes it a great way to catch attention and drive potential customers or clients to your business. Plus, since it is so durable, you won't have to worry about replacing it any time soon - meaning you can continue to show off your ads for years to come.
Use as a Form of Window Tinting
Even if you don't need to use your window films for advertising purposes, you can also use it as a form of window tinting. People won't be able to see in your car or building even when they look, creating a sense of privacy from the outdoors. You can get a special window film that will let you glow when night falls, making it easier for people to learn about your business at any time of day or night. The long-lasting material also makes sure they're never left in the dark!
The perforated window is also a great way to keep your home cool and protect you from the heat. The best way to keep cool in the summer is with a perforated window. A lot of people open their home windows but that allows heat and humidity inside, which can make it harder for you breathe easily at night time or work all day long without becoming overheated.
The right advertisement for your business and services is an essential part of bringing in new clients. You don't want to lose money on the choice, which can be why we've explained how perforated window films could work out better than other types.
At CreationStationPrinting, we specialize in perforated window, which are perfect for a wide range of applications. Whether you're looking to promote your brand or advertise a sale, our perforated window decals are an affordable and effective solution.
So if you are looking for a creative way to advertise your business then Check out our Perforated Window Decals!
Check out some other Vehicle Signs like this one!
Thanks for Reading!
Takeaway
At Creation Station Printing, we believe in providing our clients with everything they need under one roof. This means that we offer a wide range of services and products that cater to your specific needs and requirements.
We have a team of experts who are available to help you every step of the way. So if you're looking for quality printing services that will exceed your expectations this is the place to be.
Imagine, being able to go to your print provider, get every single item you might need from one place, and know that you are going to get the best price at all times.
Now that's loyalty. 
Check out Creation Station Printing today and ask them about their custom branded storefronts. This will start the conversation that could change the way your company does print forever.
Want to Learn More?
Check out more info about how we can build you your own custom branded business storefront and let us become your in house print shop today!