Tips for Creating a Winning Trade Show Banner Design
When participating in a trade show event, it's essential that you take the time to do everything the right way. Renting a booth at a trade show venue and calculating all of the other costs associated with it adds up quick. When spending a large amount of money on an event, you want to ensure that everything is done as it should be and that no money is wasted in the process. This is why it's so important to create a winning trade show retractable banner design.
A good design is what's going to get you the most attention and make you stand out from the competition. The last thing you want to do is spend money on your participation in a trade show and not accomplish what you need to get done.
Using a trade show banner is a great way for people to see who you are and what you offer, but you'll need to know how to design it in a way that'll do just that. Although the whole situation might seem overwhelming, it doesn't have to be. We're here to lend you a helping hand.
Here are a few retractable banner design tips to keep in mind!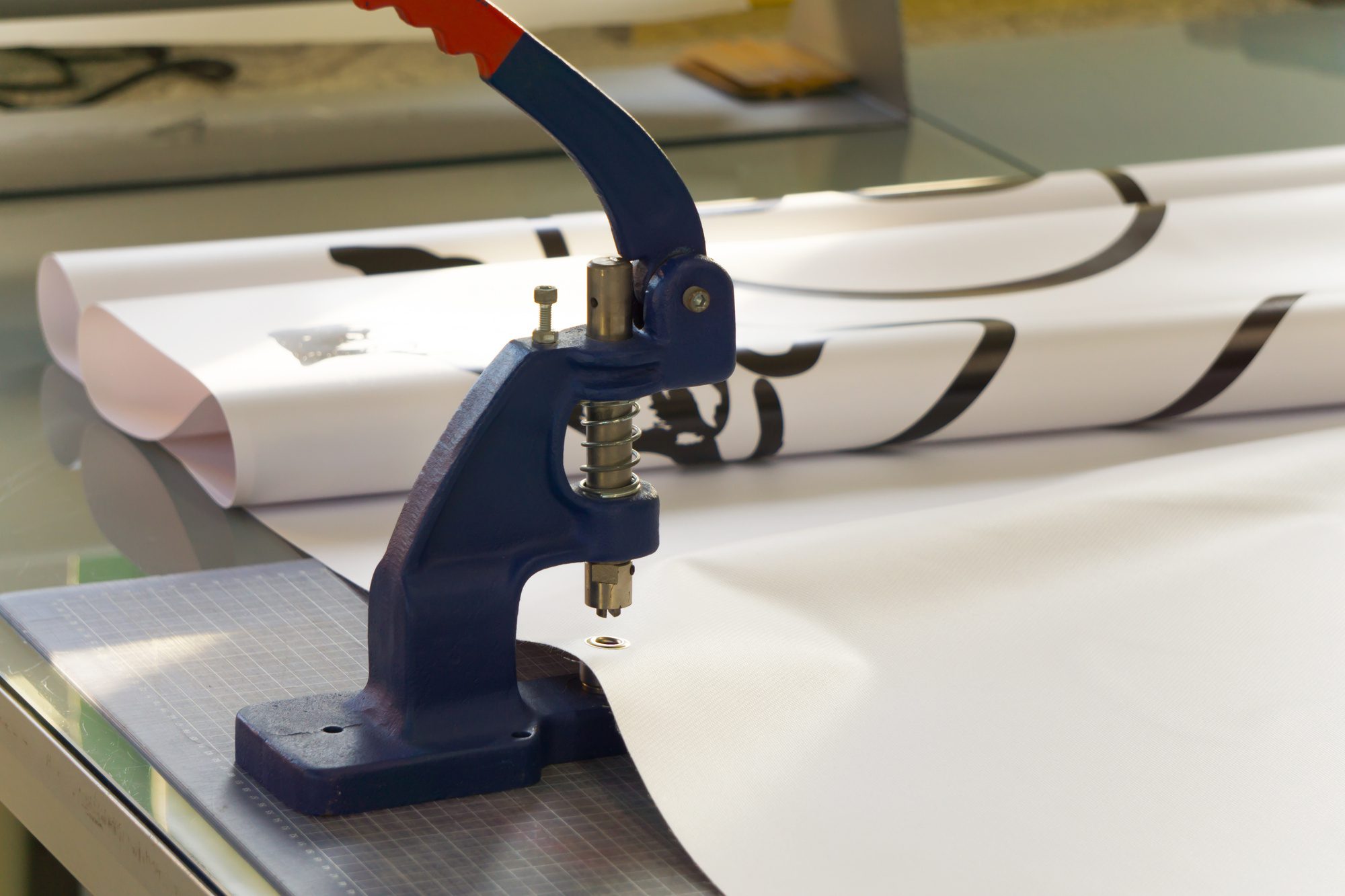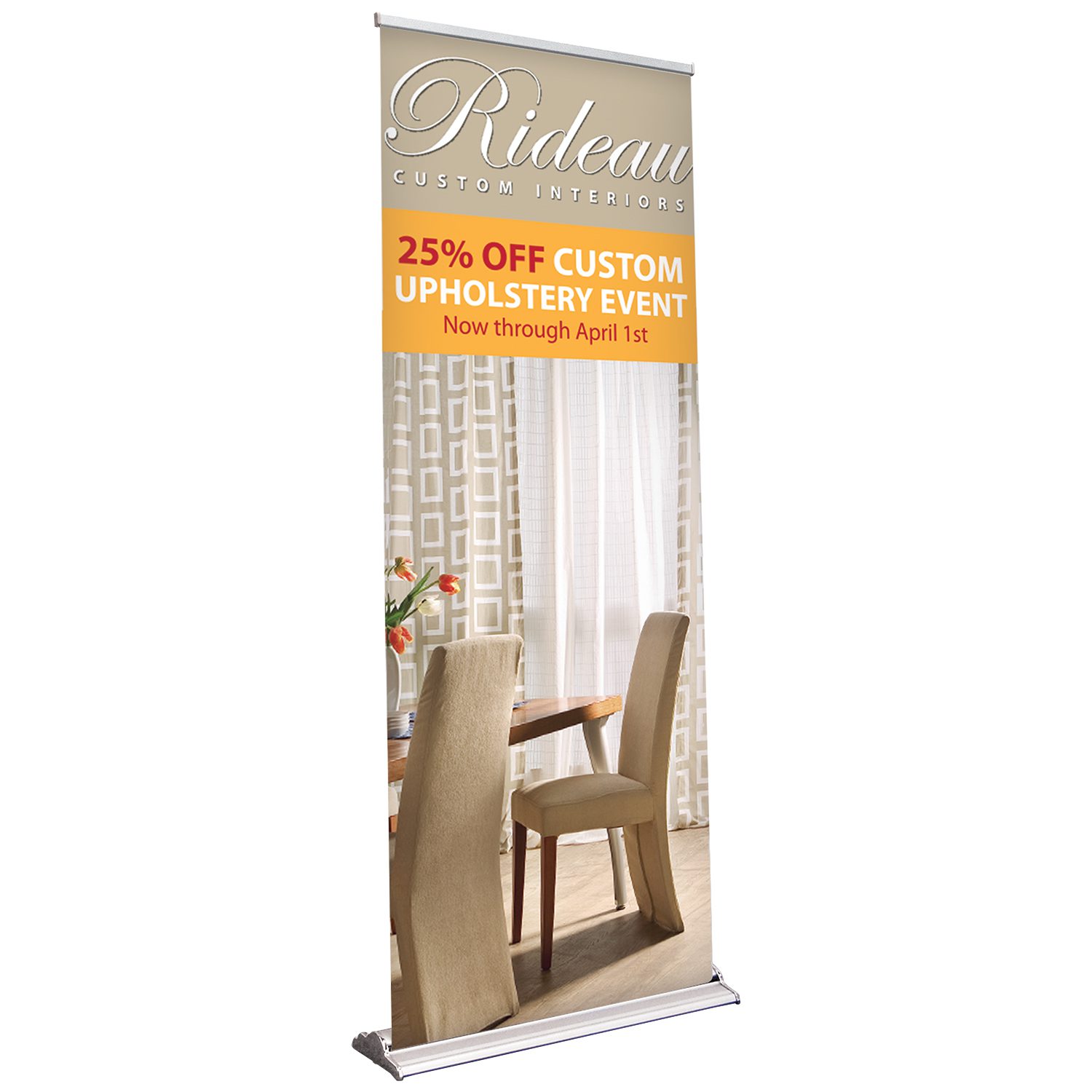 Create Your Retractable Banner Today!
Now that you know everything you need to create an award-winning retractable banner design, what's stopping you from making yours today?
Click here to request a custom quote and to get started on your own trade show banner project!
1. Place Your Company's Logo at the Top
Your company's logo is one of the most important things that you can put on your banner. It shows people who you are and what your company stands for. Because of this, be sure to place the logo at the top of the banner.
The logo is going to be one of the main things that people remember most about your company. For example, after attending a trade show and seeing your banner and logo, they'll remember what your company is all about the next time they see your logo around town or in advertisements.
Right below your logo, you want to place your main message. This should be at eye-level.
2. Print Text to Read Left to Right and Top to Bottom
It's always a great idea to get creative when creating a new company banner. However, don't get too out of hand by placing text that's written sideways, slanted, or in other crazy styles. Although it might seem like a fun idea, this makes it much harder for those walking by it to read.
You want to keep all of your text easy to read by selecting a font that matches the font in your logo and that's a size that's easy to see. At the very least, be sure you place the text to be read left to right and top to bottom. This is how we're trained to read and will be the easiest way to get your information out to people who are even just walking by.
If someone has to stop and tilt their head to read what your banner says, you'll most likely lose them before they get to through the entire note.
3. Use Your Company's Colors
Colors are a must-have when creating a banner for a trade show. Just keep in mind that you don't want to go overboard with the colors. Having too many colors might take away from the information on the banner.
One good tip is to use the same colors found within your company's logo and sticking with those. You could add in another color or two if your logo isn't very colorful, but it's important to do your best in keeping everything balanced and in sync.
4. Only Use High-Quality Images
If you want to print images out on your banner, which we advise you do, be sure to use only high-quality images. This goes for your logo as well. If the images on your banner aren't clear, then you risk the chance of people not taking you seriously.
You don't want to display images that are stretched, blurry, or pixilated. This won't help show potential clients that you run a professional business. Take the time to ensure the photos you're using are of high-quality and help to create an attractive banner.
5. Less Is Often More
You probably have a lot of information or images that you'd like to display on your banner. We understand how important it is to you to get everything you need on the banner, however, sometimes less is more. The more information you try to cramp into your banner, the less readable it'll be.
When there's too much going on in one place, it makes it hard for people to read or concentrate on it. Think about what information is the most important and only use that on your banner. Once you pull people into your booth, you can then give them the rest of your company's information.
6. Include Vital Information
Knowing which information is the most vital can be difficult, but it's something you need to know. For starters, you'll want to include your company's logo. You'll then want to include your company's main purpose.
If you have enough room, it's ideal to add in your company's basic information such as telephone number, address, email address, and website. Then, at the end of your banner, be sure to add a call to action, which will tell potential clients what you need them to do next.
This could be trying a sample of a product, signing up with an email address, or something else.
Takeaway
At Creation Station Printing, we believe in providing our clients with everything they need under one roof. This means that we offer a wide range of services and products that cater to your specific needs and requirements.
We have a team of experts who are available to help you every step of the way. So if you're looking for quality printing services that will exceed your expectations this is the place to be.
Imagine, being able to go to your print provider, get every single item you might need from one place, and know that you are going to get the best price at all times.
Now that's loyalty. 
Check out Creation Station Printing today and ask them about their custom branded storefronts. This will start the conversation that could change the way your company does print forever.
Want to Learn More?
Check out more info about how we can build you your own custom branded business storefront and let us become your in house print shop today!